Gliding over the Indian Ocean, seeing the shoreline of jewel shaped Sri Lanka looming in the distance, beckoning us "ayubowan" as we cruise towards Badaranaike Airport, excitement cannot help but rush through my veins. The feeling is one of joy and ecstasy, the prospect of discovering a new country, adventure, all the promises that a holiday holds.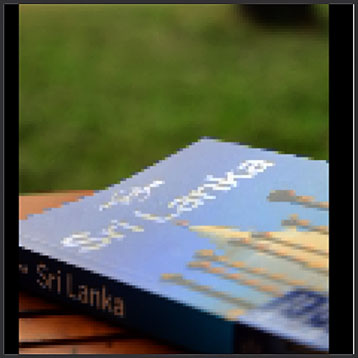 Still a tad bit miffed at the "business class" lack of service, we make our way into arrivals and walking through, we see that the airport is so much better developed than our own JKIA back home. It has travelators (I think that's what they are called) – that work! What is strange though, is the calibre of duty free shops on arrival, that seem to be loaded with washing machines, cookers, fridges and all manner of home appliances. It is like walking in Nakumatt!
Getting through customs is as painless as painless can be. The immigration officer smiles at us politely, takes our passports, doesn't even look at the approval form and stamps us into Sri Lanka for 30 days. A quick word on visas here, for my Kenyan readers – it is incredibly simple to get a tourist visa to Sri Lanka, and even though they have a consulate in Nairobi (on Lenana Road), they encourage you to apply for and get your visa approvaed online. You simply go to www.eta.gov.lk/slvisa and apply online. The application costs US$ 15.00 per person. Having said this though, it is always best to check with the consulate for any changes to visa applications, so do double check to ensure that this system still applies.
Within 10 minutes after touch down, we have cleared immigration, collected our baggage, bought a BlackBerry activated sim card from the arrivals area (all you need is your passport and 1200 Rupees and you are in business for 30 days) and have been received by our driver, and are on our merry way to Waikkal, the first stop in our Sri Lankan odyssey.
The drive to Waikkal from the airport takes about 20 minutes, mostly through a residential area, on a very well maintained road network. As we pull up to a set of gates, a white car adorned with red flowers is pulling out. Our driver tells us that in Sri Lanka, the wedding car is adorned with white flowers on the wedding day, and red flowers the day after, for the bride's homecoming to her in laws house…and I am intrigued with this little snippet of information, about the fascinating Sri Lankan culture that I am so going to enjoy telling you all about in the next few posts.
We are staying at the Ranweli Holiday Village, on the shores of the Indian Ocean. We deliberately chose to stay in Negombo, rather than Colombo, because in true M&P style, we try as much as possible to sample a country's beaches too, and this seemed like an opportune time to indulge in some beach therapy.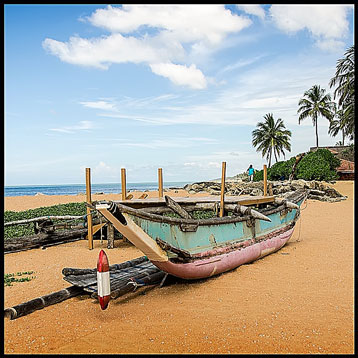 The main hotel is on its own little island, separated from the mainland by a canal. We get out of our car to see a raft gliding towards us, and we are garlanded with flowers and given cold towels, and taken to the other side, to join a long walkway which takes us to and we are taken across a canal, on a raft towards a long walkway joining the reception.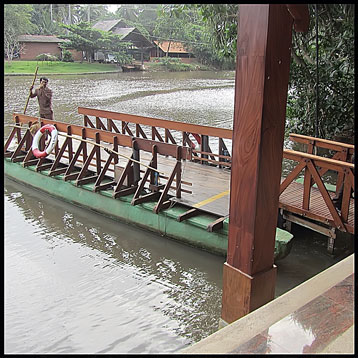 Ranweli Holiday Village is made up of eco friendly red brick and tiled villas, dotted around lush green lawns which are adorned with palm trees. The blue waters of the Indian Ocean beckon in the distance, its waves crashing onto a golden, sandy beach, dotted with boulders.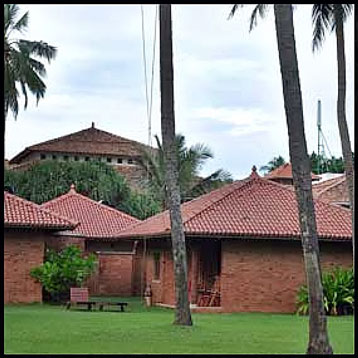 Being eco friendly, Ranweli Holiday Village does not provide additional amenities like slippers or bathrobes in the rooms, but, the rooms are spacious, clean and have an amazing bathroom with a skylight in it, and great tea making facilities. Now, I am a tea lover, and I am thrilled to be in tea country – my husband would rather be opening up bottle of vino, but I busy myself with brewing my first cup of Sri Lankan tea, and enjoy the brew while sitting out in the terrace, staring out into the vista ahead of me. Bliss.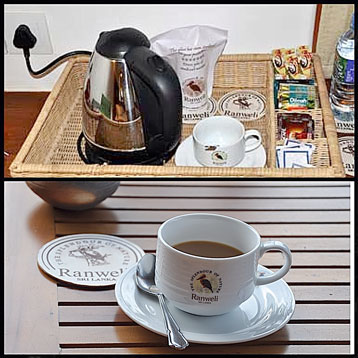 Time for a spot of lunch, and a jaunt by the beach – M and I change into beach gear, grab our cameras and off we go, to set a footstep onto the golden Sri Lankan sand!
Lunch is had by the rather square pool, being a very spicy platter of grilled meat, with a red wine sauce that has all the spices on this island in it and chips…you have to eat chips on holiday, especially by a pool – anything less would be sacrilege! The mojitos pack a punch and priced at Rs 500 each are well worth their price tag. The food is reasonably priced too, being Rs 1000 for the platter which two people can easily share. Our reverie is interrupted by a line of red fire ants and a very cheeky and incredibly daring imp of a squirrel, who is visibly salivating at our meat platter – the pool boy chases him up a tree but this little brat is perched on a branch above my head, waiting to plunge down at any moment…word of advice – carry some antiseptic in your medical kit for those fire ant bites, because boy, are they painful!!!
Having gobbled down lunch thanks to the squirrel, I am suddenly overcome with sleep. My mind drifts again to the damn flight we just came in on, so much for having a full productive day in Negombo. Bah. Anyway, too tired to rant and rave anymore, I have no choice but to succumb and crawl into bed after lunch, and catch up on some much needed rest.
I cannot sleep much on holiday and I am soon up, ready to rock and roll. We head out to catch the sunset on the beach, indulging in some sun downers and watching a lone fisherman on the rocks yonder, trying to reel in his catch, and marveling at the many boats sailing across the blue sea.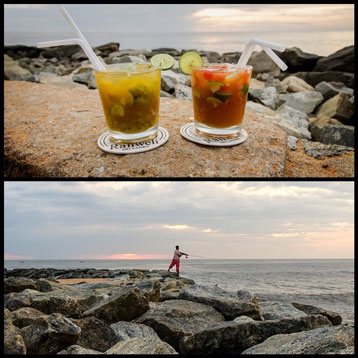 We also notice a tonne of newly married couples, having their photo shoots done at the hotel. This does seem to be a very popular choice of hotel, as there are couples everywhere – on the beach, by the pool, in the reception area. It is nice to watch them, starting out on an incredible journey together, in this beautiful country, and we raise our glasses to the couple that were standing right in front of us, wishing them well in their footsteps together. As the sun melts into an orange glow over the sea and a lone boat bobs gently up and down over the waves, we realise that it is time now, to think of some dinner…