"Life is not measured by the number of breaths we take, but the number of moments that take our breath away"… Maya Angelou
When you start to take some of these quotes literally, you begin to realise that life is made up of a series of many moments, which interconnect with one another and when melded together, produce a beautiful symphony. And as with everything in life, there are some moments that do take your breath away having been brought about by experiences that stick out in your memory more than others. In my book, these are the "defining moments" that enrich the story of your life, and make it that much more memorable.
You know by now, thanks to my incessant rambling that I am all about experiences. This month's #travellinkup theme is "10 things", and this got me thinking about some of the moments that my mind drifts to the most when I think about my life thus far. You won't be surprised that said moments for a self-confessed travel addict like me ALL have to do with, yup, you guessed it, TRAVEL! Of course, there are others but this is my travel blog, and in staying true to my niche I won't digress. Much. So, dear Wanderlusters, today's post is all about the top 10 experiences that have stuck out in my mind the most in my setting Footsteps Across The Globe. Happy reading!
1. Flying First Class on Emirates.
There is nothing more opulent or decadent than travelling First Class on Emirates. My maiden voyage flying in style wasn't the best with the worst turbulent flight ever and not getting to experience anything, but, thanks to my WanderlustMate and his amazing ways of putting me on a pedestal, I have since had the pleasure of experiencing luxury 37,000 feet up in the air, feeling every bit the celebrity and oh my goodness, SO spoilt! You know that Jennifer Aniston ad? Well, this experience is that and more. Everything about the First Class product on this airline screams perfection, from the classy private suite with its huge TV screen, dressing table and private bar to the sprig of fresh orchids adorning the walls, to the little touches like a lie flat bed with a mattress and cosy duvet to perfectly fitting pyjamas and fluffy slippers. Don't even get me started on the food! Fine dining, fit for a king! From caviar and canapes, to succulent meats and decadent Middle Eastern delights, the food is a gastronome's paradise. The piece de resistance: the bathroom. Heated floors, a shower, a dressing area and get this: a hairdryer. Pinch me!! I was in disbelief as I showered, 37,000 feet up in the air and landed at our destination, fresh as a daisy. If this is how the other half lives, I am all in! Le sigh. When I think of Ooh travel moments and travel in style: Emirates First: tops the list.
2. My first international flight out of Kenya
The addiction to travel started out very young, and if you read my post on how I got bitten by the travel bug, you will get a little insight into the workings of the cogs of my mind. You know how some things just stick out in your memory as if the event occurred a few minutes ago, even though it may have been eons ago? Well, the summer of 1995 is fresh in my mind as if it were yesterday. The British Airways 747 aircraft, the experience at the airports at Nairobi's Jomo Kenyatta International, London's Heathrow and finally, New York's John F. Kennedy are as vivid today as they were back then. The sweet, precious memory of that first flight has been engrained in my mind, and is an experience I will carry with me in my precious Pandora's box of memories forever. And this, my friends, being the start of a journey that I have never looked back from but instead has had me completely addicted to the world of travel, discovery and exploring the hidden gems this beautiful world has to share with us!
3. Watching the sun rise over Angkor Wat
Getting to the destination is only half the fun. Whether it be by coach on an ordinary aircraft or in style on Emirates, getting there is always a bevvy of excitement for me. When WanderlustMate M and I set out to explore Cambodia, it was completely off the beaten track. Cambodia was considered one of those places that you see in a documentary on the telly, and not where you go to in real life! This experience makes it to this list because Cambodia is a country that M and I explored when it was not on the radar of many, and so we got to experience its raw beauty and innocence before the time of things going viral. Watching the sun rise over one of the oldest temple's on earth was surreal as well as totally mind blowing, and reminds me of a time when one would watch the sun rise for the sheer experience of it all, watching inky darkness slowly turn into day, with the sky being a kaleidoscope of colours and savouring that moment.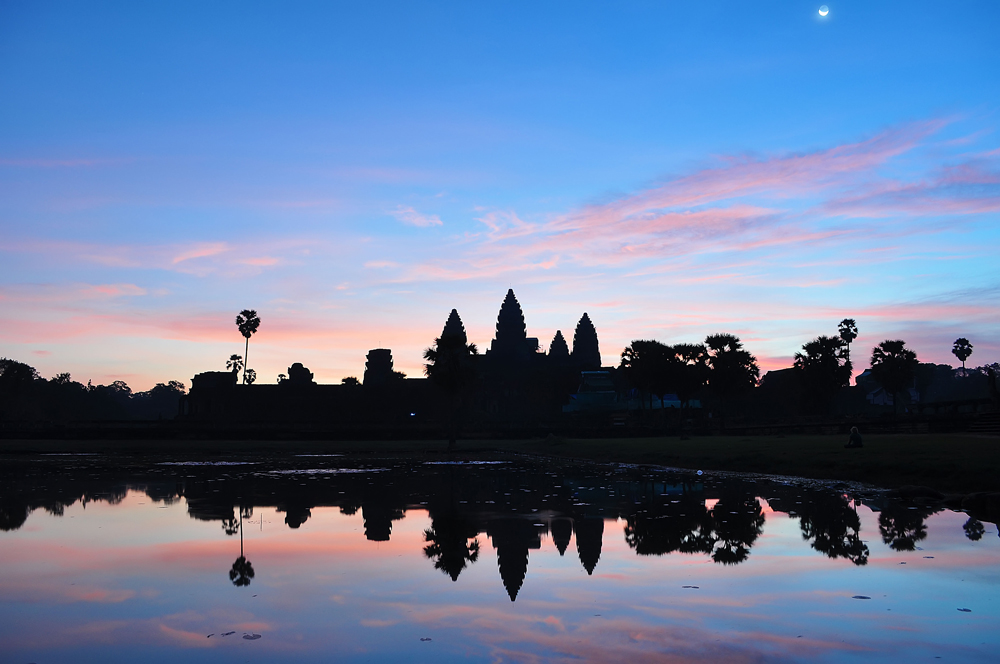 4. Hot Air Balloon Ride over the Temples of Bagan
Similar to Cambodia, M and I visited Myanmar when it had just opened up to tourism and there were only a handful of people that chose to visit this South East Asian gem. My mind often drifts back to that morning, when we rose high up above the ground in a Hot Air Balloon, and watched the gentle rays of the dawn sunshine cast their warm glow over the the spires of the thousands of temples dotting the plains of Bagan, still shrouded in the early morning mist. We were on a high all day after that experience, and till this day, the pictures of our travels to Myanmar warm the cockles of my heart!
5. Seeing an elephant up close in real life!
The first time I saw elephants was when my Dad took us out on our family jaunts to the wilderness of Samburu National Park. This was in the days before poaching, and when elephants would walk in herds of thousands. Yes, I kid you not, thousands upon thousands of these pachyderms in one herd! The most vivid memory I have is of a dawn game drive that we took out in the arid savannah of Samburu. My Dad spotted a herd of elephants playing with water in the Ewaso Nyiro River in the early morning sunshine, and he took us as close as we could get without being in danger or disrupting the ellies' frolic. Watching mummies and babies playing in the water, rolling around on the muddy banks of the river, and spraying each other using their trunks like hosepipes is something that makes me smile whenever I see an elephant in the wild, because my first time seeing these creatures was so fascinating, and it is no wonder that I have a soft spot for ellies!
6. Paragliding over Lake Bohinj
I am not an adrenaline junkie. No siree, no! but, there is an exception to every rule in the book, and more often than not, the best experiences come when boundaries are pushed. Indeed, when I pushed beyond my comfort zone and left the safe harbour of the known, took a leap of faith and literally took a running jump off a high cliff I felt like I was having an out of body experience. The peace, calm and serenity that washed over me as we glided over the blue waters of Lake Bohinj, amidst the peaks of the Julian Alps, soaring with the wind and feeling like a free bird: now that's a feeling that I would like to bottle up and spray like a scent over me every morning!
7. Seeing Gorillas in the wild in Rwanda
Never in my wildest dreams did I ever think I would get to see these scary looking gentle giants in real life! You can read all about my experience setting Footsteps in Rwanda, but the long and short of it is that there are few moments in life that come close to being out on an ancient volcano, face to face with Gorillas and being a guest in THEIR territory! Seeing these beautiful primates up close in their natural habitat, in a world where everything that was once real is slowly being destroyed to pave way for more and more, for lack of a better word- fakeness, is something that I will always hold close. Indeed, one of those moments where I have to pinch myself to believe that what I am seeing is true!
8. The Migration in Kenya
In the distance, what looks like a black thunder cloud on the ground, moving faster than lightning soon morphs into a herd with thousands of wildebeest interspersed with dazzles of zebra. Indeed, it sounds like a storm is coming, with their hooves beating down upon the terrain, raising clouds of dust as they move on. They come to a screeching halt at the rivers edge, not sure whether to take that leap of faith, that plunge and cross over to the other side, where the grass seems to be greener and sweeter. One takes the plunge, and the entire herd follows. The sounds are phenomenal: the splashing of the water, the barking of the zebra interspersed with the sounds of the wildebeest. The pitiful cries of desperation fill the air as some get pulled down by the hungry crocodiles that silently circle these animals, and others make it out to safety on the other side, dripping with water and in some respects, relief. You could be forgiven for thinking that this is a scene from a Nat Geo documentary. The migration in Kenya has earned itself the nickname of being "one of the greatest spectacles on earth, and one of the seven wonders of the natural world." You have to experience it to believe it. And when you do, you will nod your head in agreement that this has made it to one of my top 10 experiences thus far!
9. Snorkelling in The Maldives
I have always had a phobia of water. It probably stems from my fear of the unknown. The ocean is too deep and goodness knows what lurks in its inky darkness! These were my thoughts until I set Footsteps in the Maldives, and got over my fear of water by snorkelling in the sparkling Maldivian turquoise waters, amidst the most gorgeous marine life, including reef sharks! Way to get over fear, huh? Top experience worthy or not? For sure!
10. Road trip in Tuscany
For many, many years I collected pictures of Tuscany and pasted them into my journals, believing that one day I would gaze upon the endless rolling hills, unfurling like a green carpet studded with grape vines. Imagine my delight when this dream actually came true! I sated my wanderlust for Tuscany, albeit temporarily when M and I took a roadtrip down breathtakingly gorgeous country lanes. You can read all about my experience in my various posts on Tuscany, but this my dear readers, was indeed an experience that rocked the charts!
I do hope you enjoyed this! Leave me a comment below: I always love hearing from you. Do check out some of the posts my fellow bloggers have crafted up by visiting Follow Your Sunshine, SilverSpoon London, Adventures of a London Kiwi or on the blog of our lovely guest host Erin at Erin Out and About.