A short flight away from Kenya lays the gorgeous island of Mauritius, our destination to ring in 2011. Air Mauritius flies from Nairobi once a week and for some insane reason, the flight departs Nairobi so late that by the time you arrive and check in to your hotel on the island you have wasted a whole day. You'd think with the proximity they would choose to fly at a sensible time, but oh well.
The clear blue and turquoise waters, not so white but still gorgeous sandy beaches and the prospect of spending 7 nights on the beach make up for the less than charming flight getting there. Once we get to the Sofitel on Flic en Flac Beach and catch a glimpse of paradise, life soon gets good again.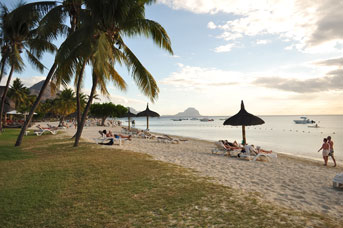 We were all checked in to our gorgeous room in record time and ready for dinner, which turned out to be an interesting experience. For a five star hotel, there was no maître d'hôtel seating persons in the large dining room. So, after waiting a while and realising nobody was coming to our rescue we sat ourselves on the first table for two that had place settings and chose to…..wait some more for a waitress to come and take our order.
Anyway, the first night we had our first and last buffet dinner at the Sofitel – the variety of food was good but the lack of service and the sourpuss waitress we eventually got to serve us some wine put us off.
Day 1 in Mauritius, we decide to go to the Caudan Waterfront in Port Louis, and do some shopping. Now, M and I are "malloholics" and we need a whole day plus plus at a mall. So we got a cab from the hotel, and asked the cabbie how much he would charge for a whole day. He looked surprised that we would want to spend a whole day at the mall……and when we got to Port Louis city centre (about a 40 minute drive from Flic en Flac) we soon found out why the cabbie was surprised.
Do not expect to shop till you drop here. The city centre is quite nice to wander in for a couple of hours, and there are a few shops but you cannot shop here as if you would in London or Dubai for example. We were done scoping out the shops in the area in less than an hour and we found nothing that called our name, so we decided to call it quits and eat instead. We lunched at the al fresco Moet & Chandon Restaurant at the Le Labourdonnais Waterfront hotel, really pleasant to sit at and people watch. I tried a Mauritian chicken curry which tasted a bit like a Punjabi curry with undercooked masala, but I guess that is the way that Mauritians like their curry!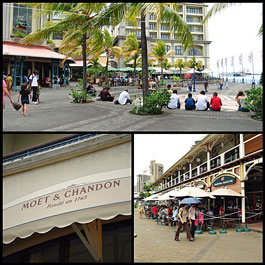 We had sent our driver away but getting a cab back to Flic en Flac was easy enough, so we headed back to the Sofitel to get some beach time. Back at the hotel, we were lucky enough to get some sun beds by the pool thanks to a fantastic waiter, Hafeez who soon became our friend for the week and ensured that we never lacked for anything.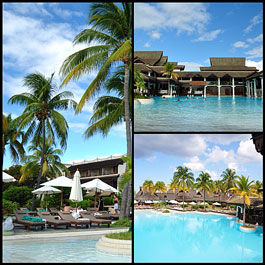 The Sofitel has an amazing garden filled with my favourite tropical flower, the frangipani and various other colourful flowers, rock beds and fountains. Incredibly idyllic.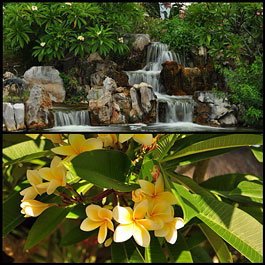 We couldn't help but wander in the expansive greenery, heading out onto the beach in time to catch the last rays of sunshine and dip our toes in the warm waters of the Indian ocean…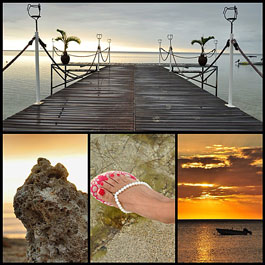 Islands are legendary for their sunsets, and our first sunset was incredibly spectacular – a perfect travel magazine advert picture…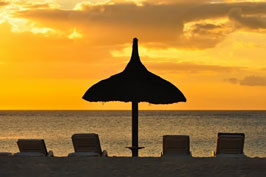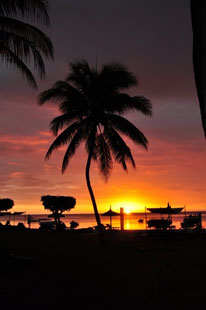 Our thoughts eventually turned to dinner, and not wanting to join the melee at the buffet we decided to scope out some of the other restaurants the hotel has to offer.
We were not disappointed. They had a Chinese restaurant (that weirdly enough also made sushi and had a few tepenyaki tables), a seafood restaurant and a fantastic wine area that does paired meals. And the best bit of all – being guests of the hotel, you can eat at any of these restaurants (off special, very elaborate menus) for free! Guess who wasn't going back to the buffet again! Woo hoo! That night we sampled the Chinese restaurant from a wonderful, airy balcony breathing in fresh sea air, and served by very pleasant waiters. The Sofitel was beginning to redeem itself.