We are back in Dubai again, for a brief holiday! M had a business trip and thought it would be nice for me to join him for a few days after, and being ever ready to hop onto a plane, I didn't refuse! After a whirlwind shopping spree, some partying with friends in Dubai and fun filled nights out, we checked in for some much needed R&R at the Jumeirah's Al Qasr Hotel, Madinat Jumeirah.
When we were in Dubai last, we dined at The Meat Co in Souk Madinat and I fell in love with the ambience around it. I would imagine it to be similar to Venice, with its mini waterways and Abra's instead of gondolas!I am really excited to be spending a few nights in this property.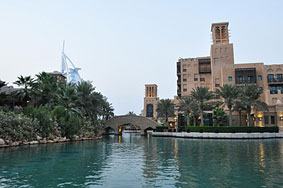 The opulence and grandeur start from the minute we cross the bridge into the Jumeirah area, and in to the Al Qasr grounds. Driving through the gilded gates and down a cobblestone driveway, I note a well-manicured garden decked with ornate gold Arabian horses.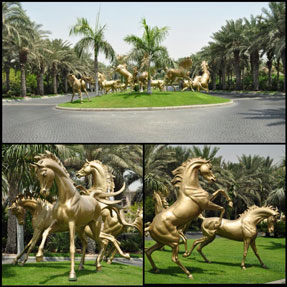 The cobblestone driveway leads to a large fountain with similar Arabian horses spoting water from their mouths. The parking lot by the side of the hotel has some incredibly sexy cars and I cannot help but wonder whether we will spot any celebrities?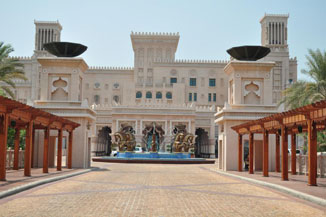 The royal treatment starts from the minute your car stops at the entrance and you cannot help feeling special. You door is opened for you, a cold towel is presented and you are escorted into a beautiful marble lobby adorned with colourful bouquets of fresh flowers. You are welcomed with a choice of drink and asked to relax in the comfy sofas while your paperwork is attended to. Actual check in is done in your room and I am so excited to find out that my romantic husband has checked us into an ocean view junior suite!
The view from our living room is sensational – I can see the Burj- al-Arab while lounging on the sofa!
The view from the balcony is even more spectacular, we can see Al Qasr miles around us and its sister hotel Mina al Sayem in the distance. The ocean stretches to the horizon, and beneath us the waterways shimmer away.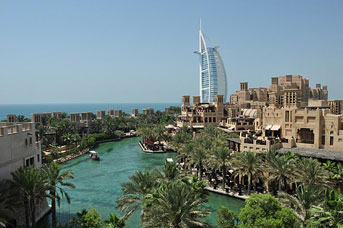 Our suite is a mini apartment, decorated and furnished so lavishly. The carpet is so thick my feet sink into it and the bathroom so large; I could fit two of my bathrooms at home into this one. I could get used to this decadence! The amenities are something else – every little thing has been thought of, from the basic shower cap to detergent, which you may or may not use, but it's there! The bed has cool, crisp Egyptian cotton sheets which are welcome to lie in, given the heat outside.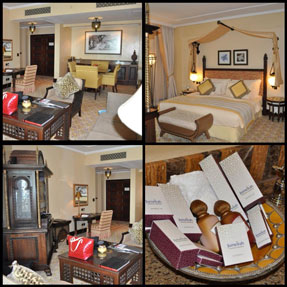 The hotel's marbled corridors have strategically placed trinkets, giving it a cosy feel.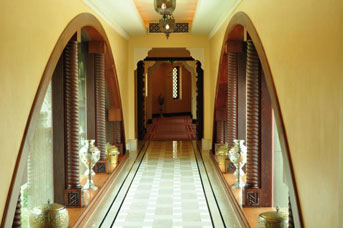 The service is definitely the best we have ever received in any hotel on our footsteps around the world so far. We walk into one of the restaurants for lunch, and are greeted by name! We are handed cold towels to cool us off before being escorted to our table. I am completely blown away – I really could get used to living like a queen! Lunch is served with the cutest condiment bottles, and I resist the urge to bring some little bottles of mayo and ketchup to Nairobi with me!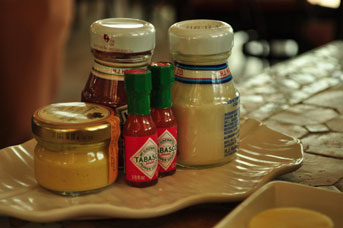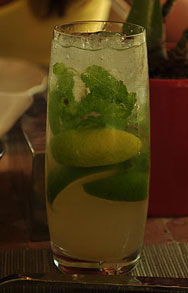 The desert heat beckons and the only thing to do is go for a quick dip in the inviting pool. The pool boy gets sun beds ready for us as soon as he sees us coming, and brings a tray with cold water, ice cubes and glasses. While lounging in the sun we experience service like no other beach hotel has ever provided. Every 20 minutes, the pool boys come round with little treats like cold towels, fruit skewers, mini sorbets and my favourite – cold bottles of Evian spray! These treats are so welcome in the heat that despite melting, you stay out there and not in your room because you know you will be cooled off!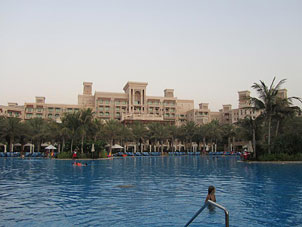 The sugar white sandy beach has comfortable couches under swags of curtains for some serious lounging and beach time.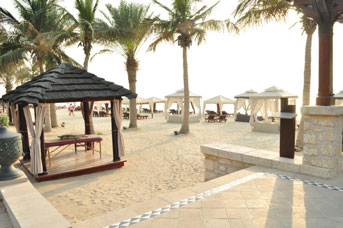 It is surreal to see the Burj peeking out from behind palm trees, and once on the beach and closer, realise that it stands on its own little man-made island. It really does capture your imagination.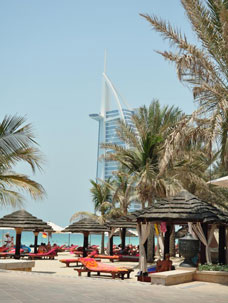 Being connected to Souk Madinat by the abra and waterways, you are never far from a good restaurant. The great thing is the abra is for use by the hotel guests only and so you don't have an overcrowded abra floating about from the jetty at the souk. In fact, we have our own abra for a while and indulge in the romantic ambience and catch a 'sunset cruise' around the property, for panoramic views around Souk Madinat, past Al Qasr and to its sister property Mina al Sayem.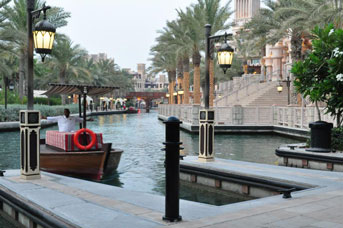 The Burj-al-Arab stands majestically in front of these Jumeirah properties, the perfect setting for romance, and when the sun sets and the lights start twinkling in these hotels, the ambience is so tranquil I am in a zen like state, feeling content. Life is good.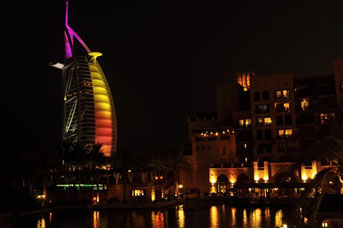 Several restaurants at Souk Madinat run specials in conjunction with the hotel, and Bar Zar has a special on drinks which we take advantage of, while enjoying some shisha, relaxing on beanbags by the waterways. The hotels themselves also have awesome bars which have uninterrupted views of the Burj, and it is perfect to sit in the cool desert breeze (amazingly it gets cool after boiling all day) watching the colours change over the majestic sail shaped hotel.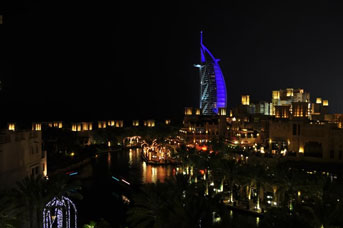 Pier Chic, the seafood restaurant in the ocean also has panoramic views of the Burj while seated inside, enjoying a sumptuous seafood dinner but it is unluckily booked out for the duration of our stay and so we cannot indulge in its finery this time round.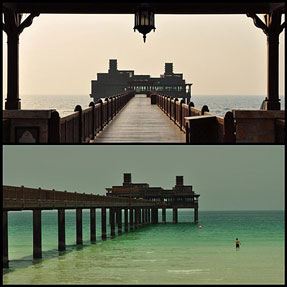 And, a final perk of staying in one of these Jumeirah properties is that you can enjoy unlimited time at Wild Wadi, the water park next to the wave shaped Jumeirah Beach Hotel! The hotels are all in the same vicinity but miles away from each other and the easiest way to travel in the desert heat is by buggies, which are chauffeured and drive between each hotel every few minutes.
I relived my childhood again at Wild Wadi – I hadn't been on a waterslide in over 20 years before Wild Wadi and boy was it fantastic! The slides are incredibly fun, with twists and turns so rapid that you can't help but scream in delight and bring out the inner child in you! One ride stands out (as most often do) – The Jumeirah Sceirah (?) which is a vertical drop. The wait for this is over an hour long but it is easy to see why – only one person is allowed to go down at a time! The pull of gravity in my tummy was so intense that I felt it even after the ride had ended and though the ride lasts less than 10 seconds it feels like eternity, and I lay at the bottom screaming for a few seconds longer, thinking I was still moving, until a voice said to me "ya'allah habibi, you can stop screaming now"……embarrassment central!
Our three day sojourn at Al Qasr flew by too fast, and we took full advantage of being in such a splendid property and didn't venture out to explore the rest of Dubai once we had checked in. It was fantastic being in our own little cocoon in this decadent hotel, and I would love to go back again someday!