Chocolate, waffles, moules-frites, beer. Gingerbread lookalike Houses . Cobblestoned streets laced with meandering canals lined with weeping willows.
Welcome to Brugges!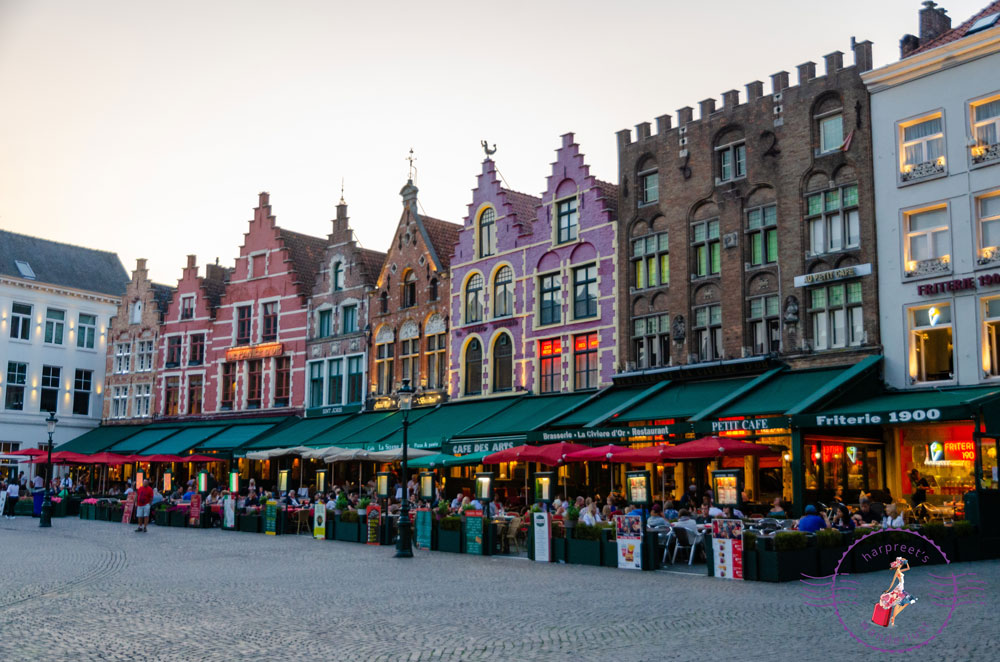 Brugges is a fairytale'esque little corner of Belgium, found in the Flemish region (also known as Flanders) and often called the Venice of the North because of the canals that run through pretty much the entire city.
Brugges is postcard picture perfect: a sleepy medieval city that feels like it is just awakening from its slumber. Markt Square fringed with its gingerbread lookalike houses and horses with carriages is like walking in the pages of a storybook and I almost expect a prince and princess to ride by: yes, it is that cutesy!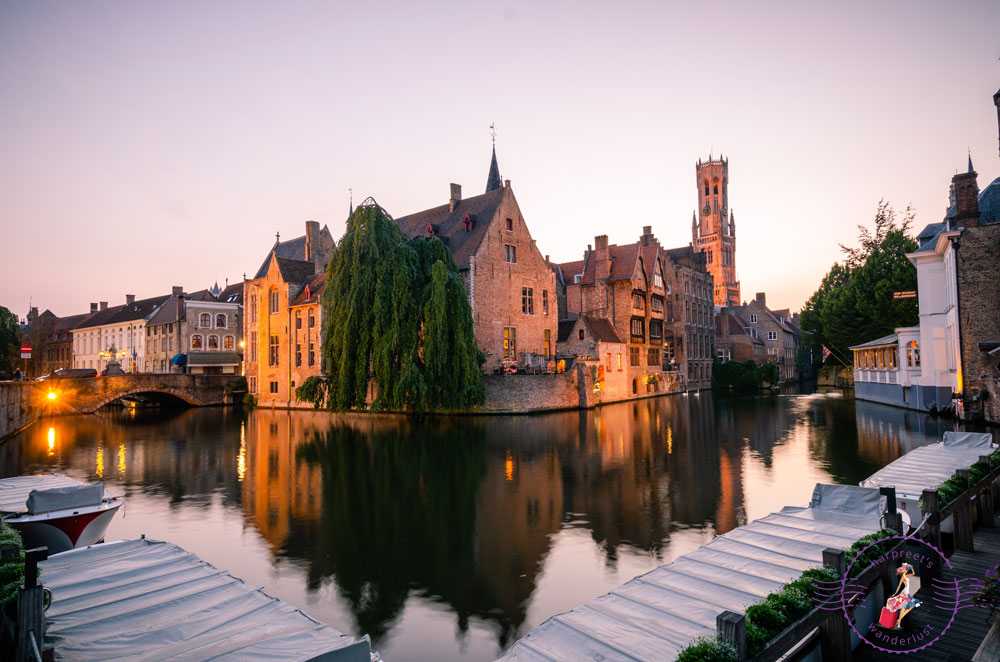 Many opt to take a day trip to Brugges from nearby Antwerp, however I would recommend spending at least one night in Brugges if not more.
The real charm of this city is hidden in the moments meadering around cobblestoned alleyways once the last day tripper has departed.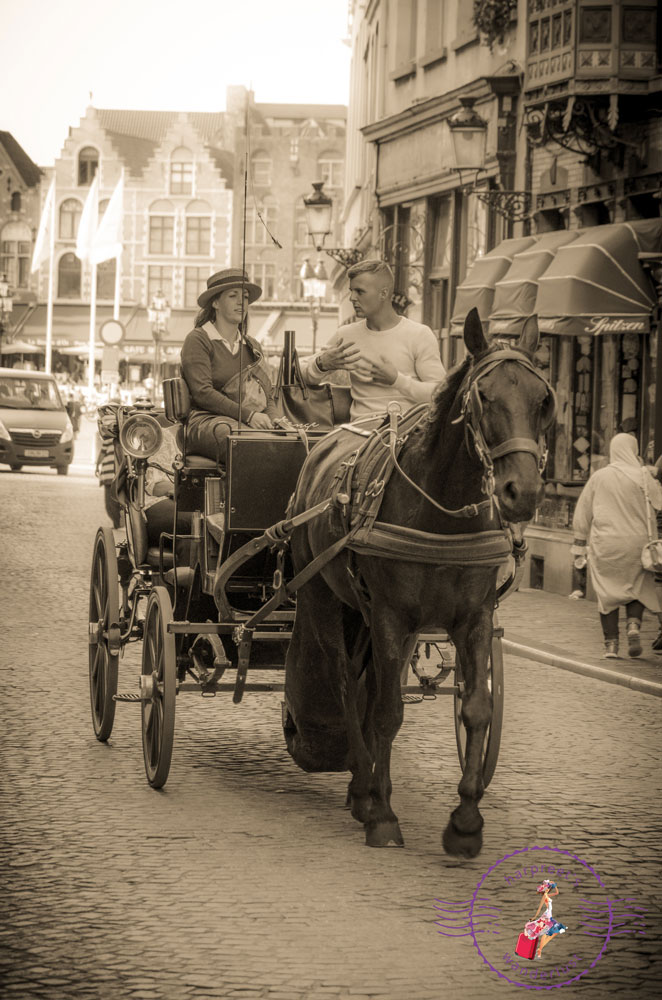 24 Hours in Brugges…where to stay?
I absolutely love staying in places that have some sort of history associated with them. It makes me feel like we have taken a step back in time and stirs up my imagination, which more often than not, goes wild with wonder and that just enhances the experience of the place we are in.
If you are anything like me, then you will love where we chose to stay: at the Hotel Dukes' Palace, a former residence of Burgundian Aristocracy now turned into a luxury hotel.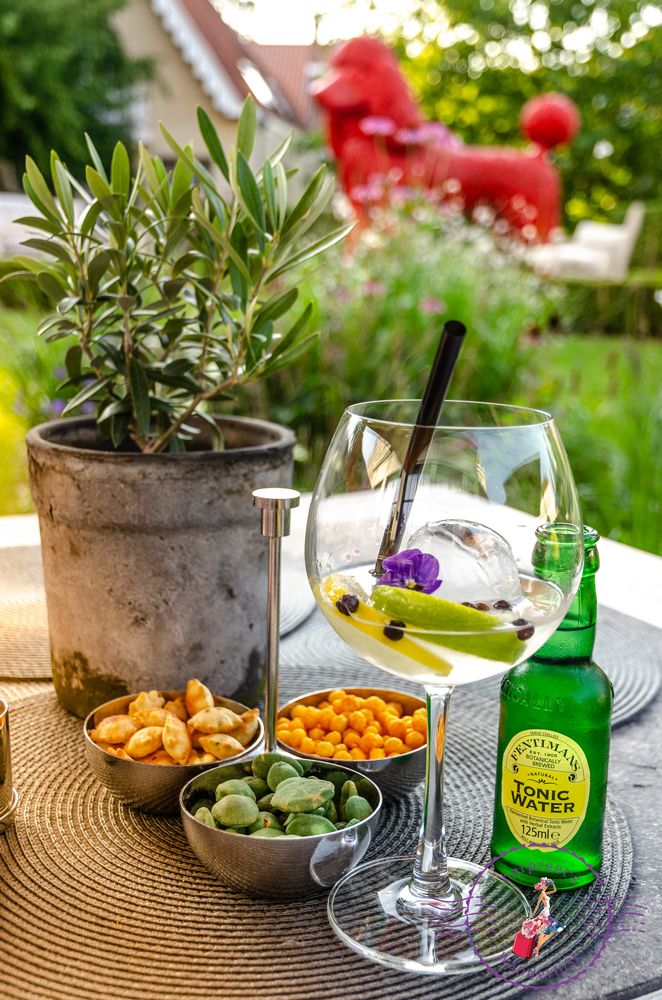 Literally a couple of minutes' walk away from Markt Square, this hotel really was the ideal location to spend our whirlwind 24 hours in Brugges.
Did the hotel live up to its name? Absolutely!
Being a large aristocratic house it has the signature large bay windows draped with heavy curtains, and large oil paintings hung in the corridors, but the piece de resistance is the turret.
It really felt like we were staying in a Duke's Palace of yesteryear!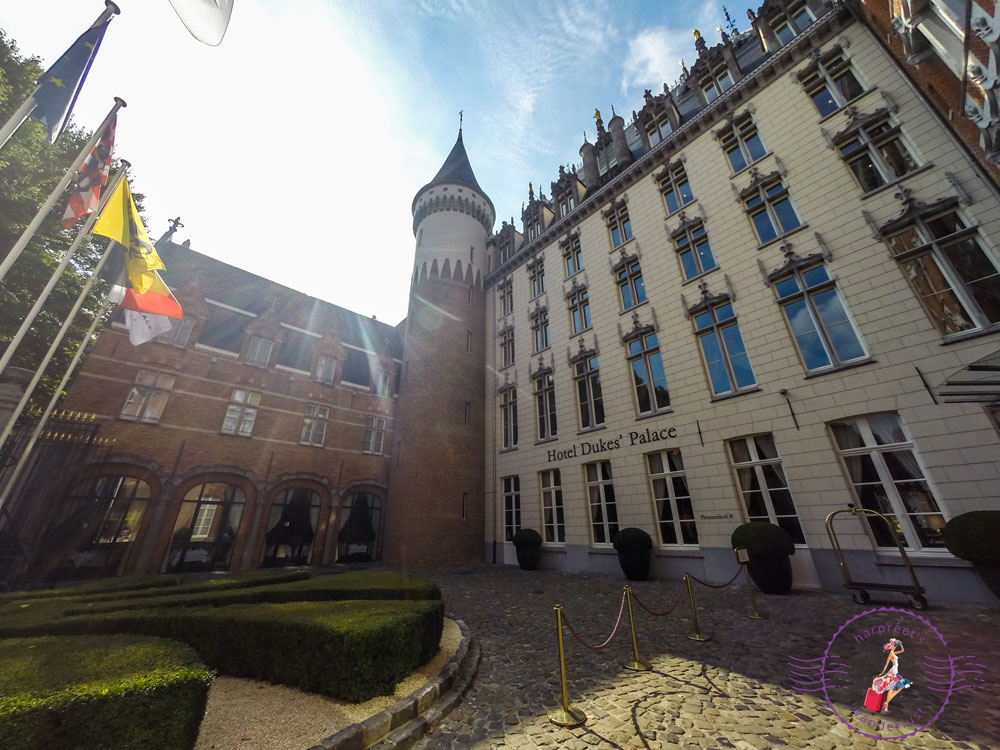 All checked in, what next?
Wondering where to get started with your exploration of this charming city? Here are a couple of tried and tested suggestions:
Explore, explore, explore starting with Markt Square:
Ditch the maps and just walk around. There is no greater feeling than that of finding your own adventure by just exploring hidden alleyways and moseying around the nooks and corners of a place. This really anchors a place into the annals of your memory!
Start off at Markt Square, also known as Grote Markt: the cobblestone circle found in the heart of the old city surrounded by a myriad of important buildings, cutesy shops selling everything from bric-a-brac and souvenirs to essentials and restaurants.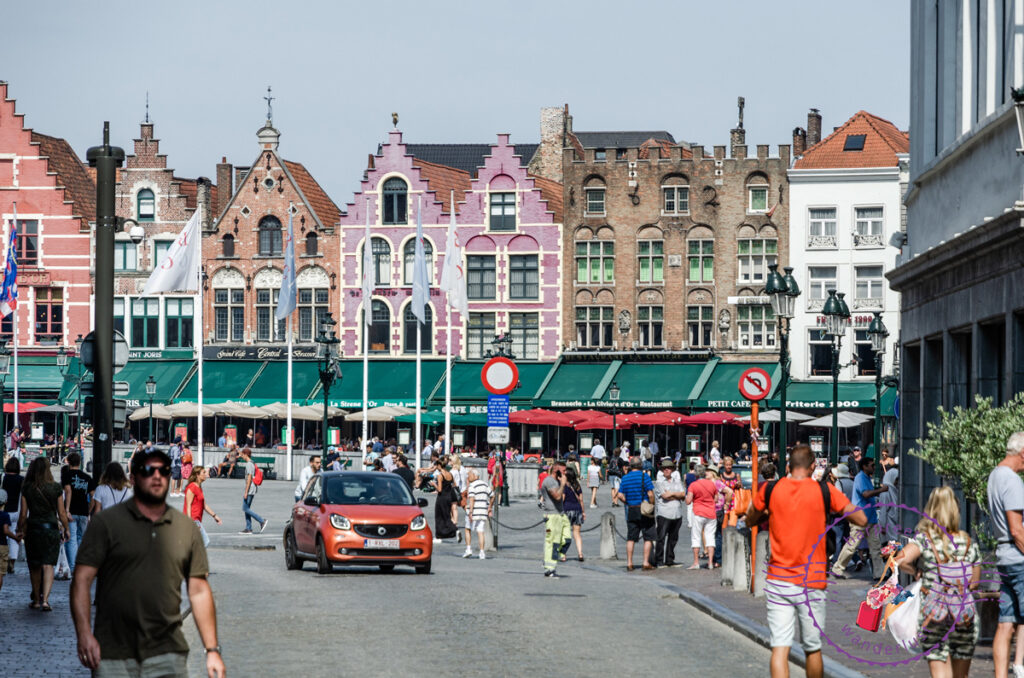 Fringing the square is a row of colourful houses with stepped gables, which are often compared to gingerbread houses. If you happen to be in Brugges on a Wednesday, you can indulge in an authentic use of the square. Mosey around the weekly morning market where local vendors congregate to sell their handicrafts and other artisan products.
Once you have had your fill of the square, head off on a jaunt on one of the many lanes that lead away from the square. Follow any lane and walk along the canals for some seriously beautiful views of the old town.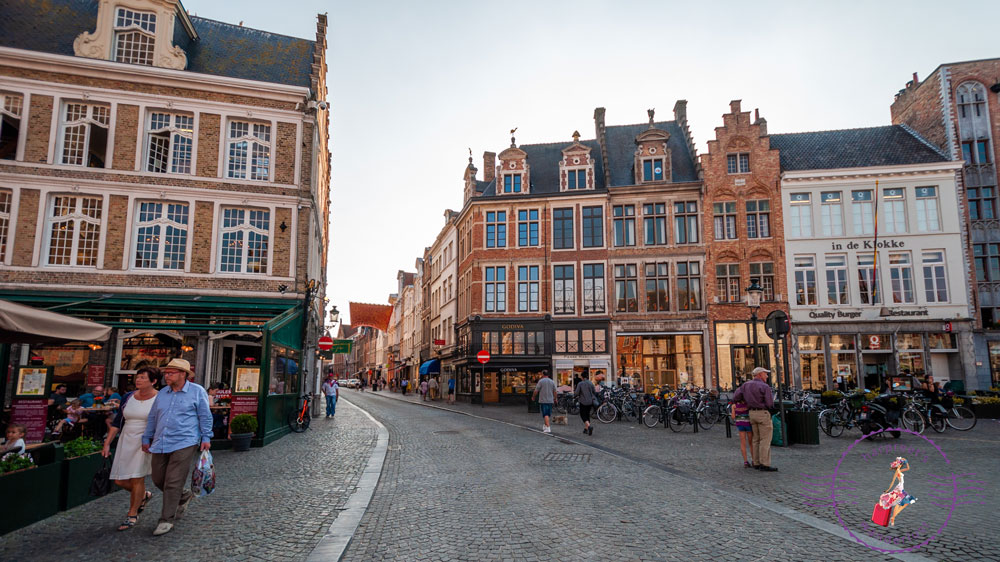 A bell tower inevitably means that you have to battle with steps and yes, this one is no exception: it is 366 steps up to the top but there are breaks in between levels where you can hop into rooms that give you snippets of historical information.
What is particularly great about this tower is that there is a one in one out system operational and so this limits the number of people that are climbing at any one time. Great news if you are claustrophobic!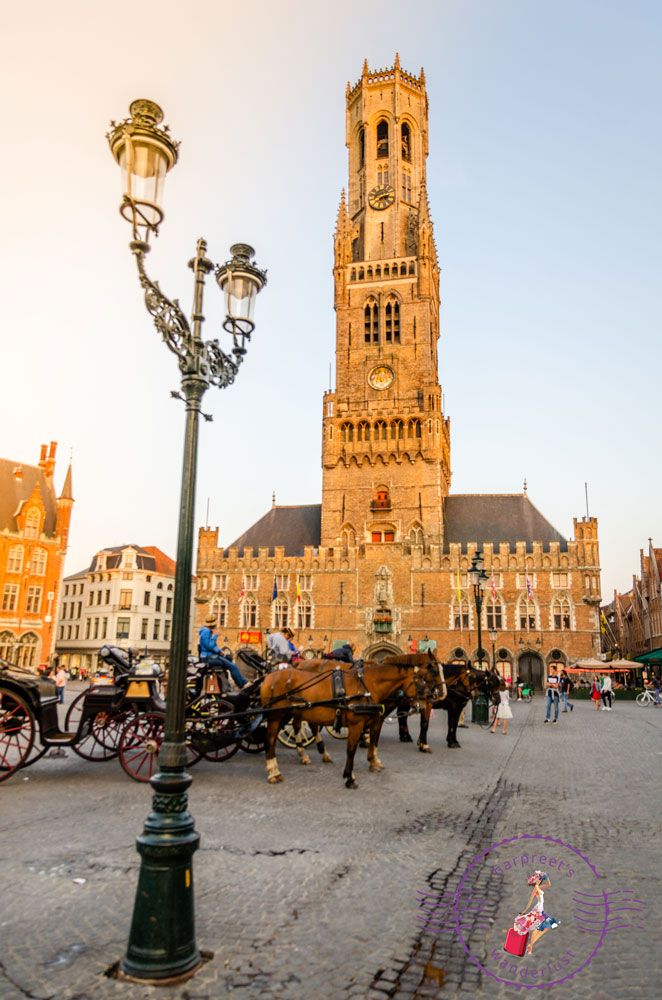 My top tip would be to do conquer the Belfry first thing in the morning. If you have spent the night in Brugges then it is easy enough to get there for opening time at 9:30 am. Arriving at the entrance any later than 10:30 am means that the queues will have built up and there is a longer wait as the electronic gate monitor only lets one in when one comes out.
The views of the gingerbread houses in Markt Square and the rooftops of Brugges are really pretty and worth the energy spent getting to the top. You can always decide to reward yourself with something delicious after all that leg work: and there is plenty to choose from between hot, crispy frites from the vendor in the square, chocolate from one of the many chocolatiers or my personal favourite: waffle on a stick coated with caramel chocolate and sprinkled with crumbled speculoos. Nom nom nom!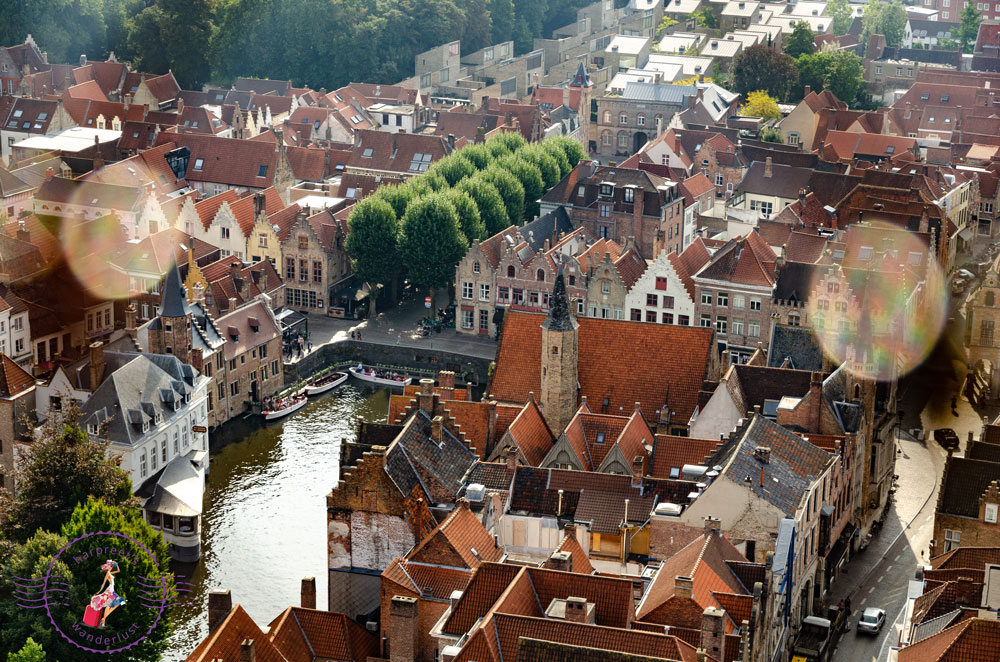 Usually, I am not a fan of group activities or those that are almost a cliché: but there are exceptions.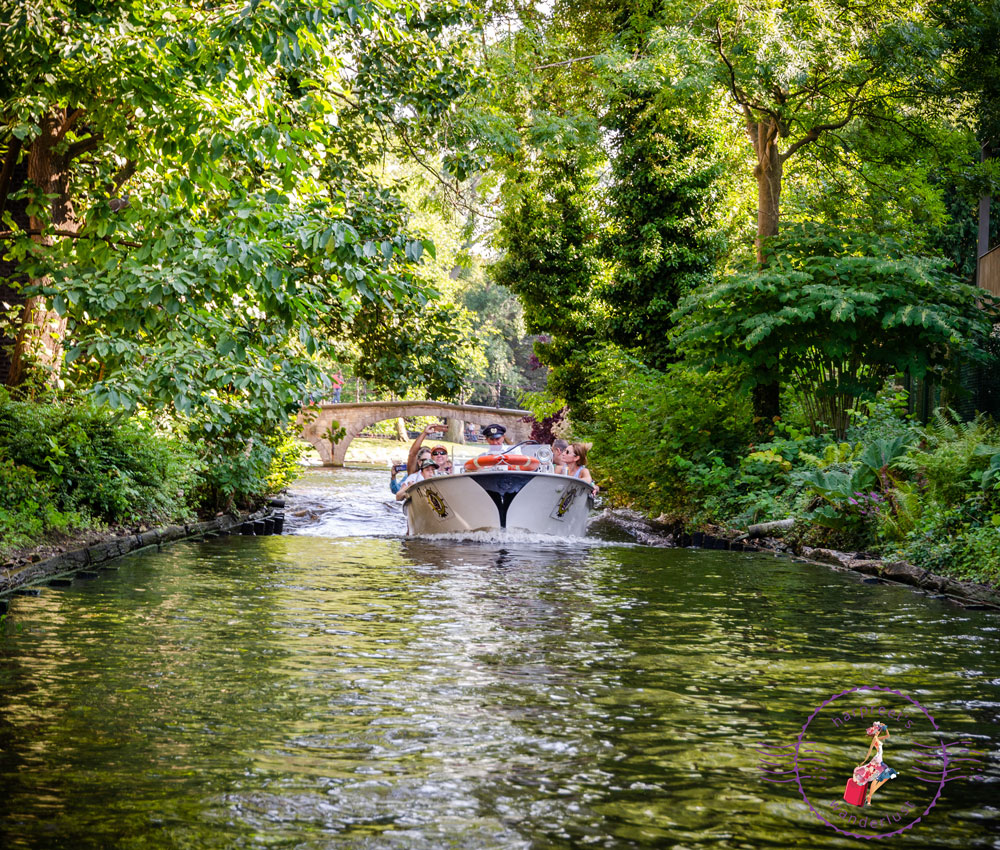 The only reason I would suggest a canal cruise is because you get to see Brugges from a different perspective and the view is totally different from that seen on dry land which means there is potential to find adventures when back on land.
We enjoyed the views from the water and then we walked around to find those that struck us the most.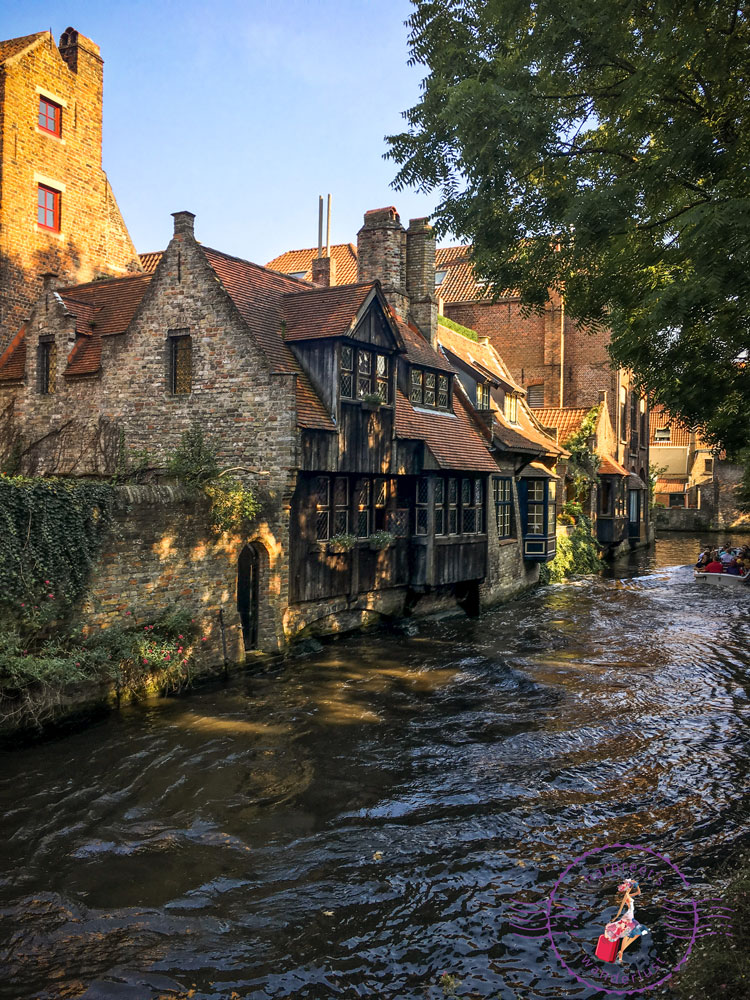 WanderlustmateM and I went in search of Lovers Bridge after seeing it on the canal cruise and in the process, came across two girls playing the most beautiful music on a flute and a harp in the grounds of a picturesque church. We sat and listened for a while, soaking in the views around us and just enjoying the moment.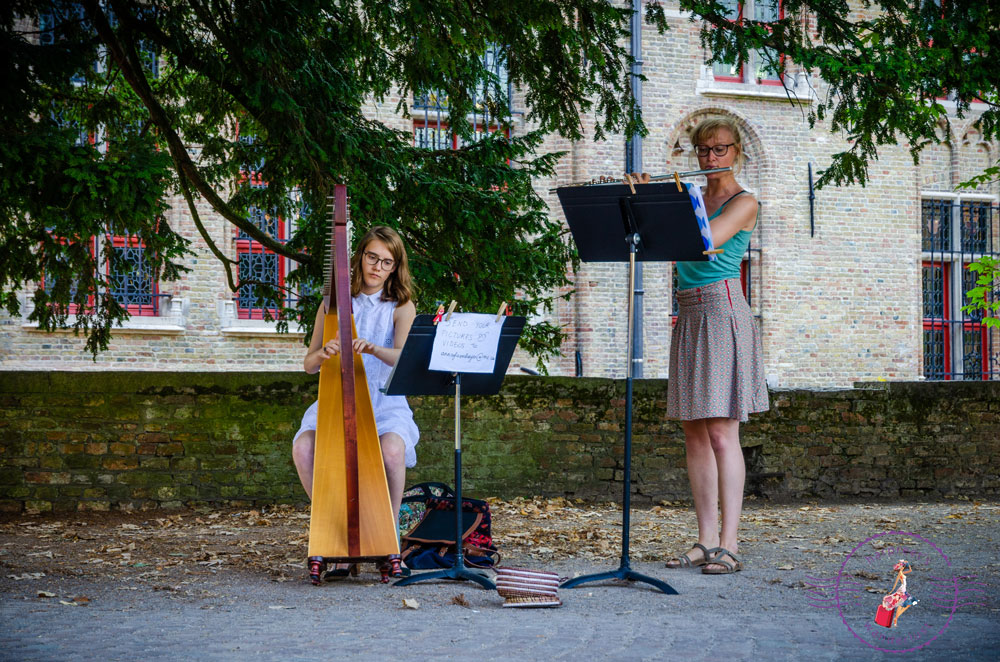 My only niggle with the cruise, is that it is super commercial with people being packed into the boats like sardines in a can and they wait for the boat to fill up before setting off. I suppose this is to be expected given that it is a super touristy thing to do, but, the views from the canal make the crowded ride somewhat worth it.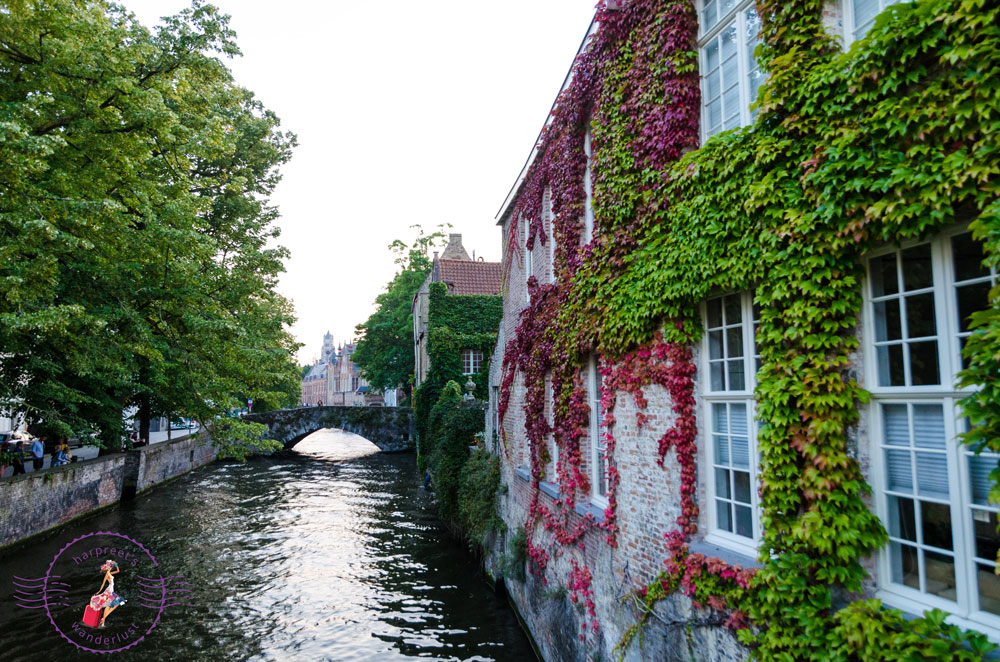 In the land of chocolate, you would be hard pressed not to visit the chocolate museum!
Choco Story is a fun place where you can munch on a slab of chocolate as you wander through the levels, following the story of chocolate and how this oh so moreish concoction was discovered and is now whipped into these delicious morsels of goodness today.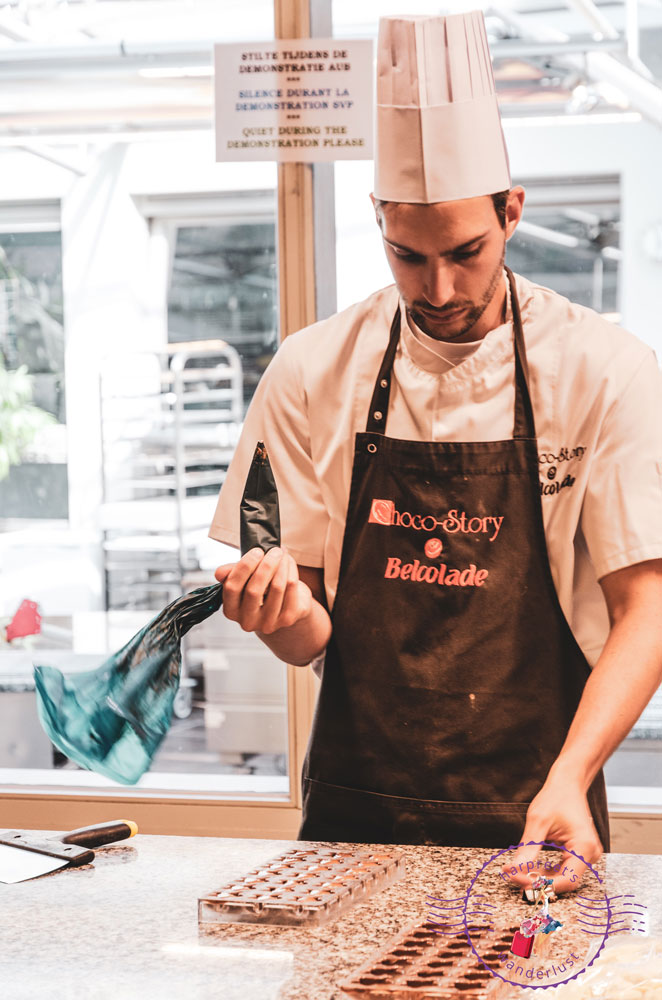 The museum is fun for adults and children alike with infographics that will interest both.
At the end of the tour there is a chocolate demonstration where a chocolatier shows you how he fills in empty shells with a flavour of the day, and you can grab a couple of freshly filled nuggets on your way out.
I cannot think of any savoury dish that is more quintessential of Belgium than Moules-Frites. If you can, then let me know in the comments below!
There are tonnes of restaurants that serve this dish, but I would recommend Malpertus.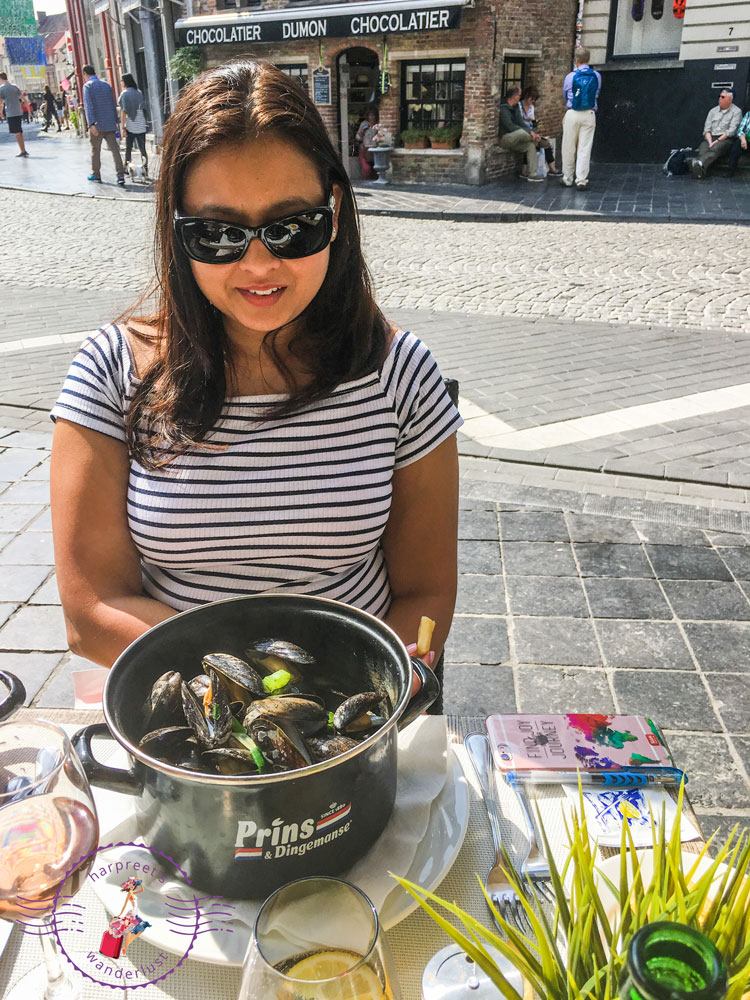 This quaint and cosy restaurant is set just off the busy square and is the perfect combination of elegance and taste. The moules are made in white wine, cream and garlic and served with some crusty bread to dip in the delicious sauce, and some crunchy home-made frites which taste divine slathered in mayonnaise. The dish is served in a proper moule pot which makes it even more exciting to eat!
Waffles are delicious in any form but seemingly more delicious when served on a stick!
The one thing I would say you cannot leave Brugges without eating is a waffle on a stick, but specifically from Go.fre. You can choose from some of the many ready made sticks in the shop, eat it as a plain waffle or customise to your liking with a variety of dips and toppings.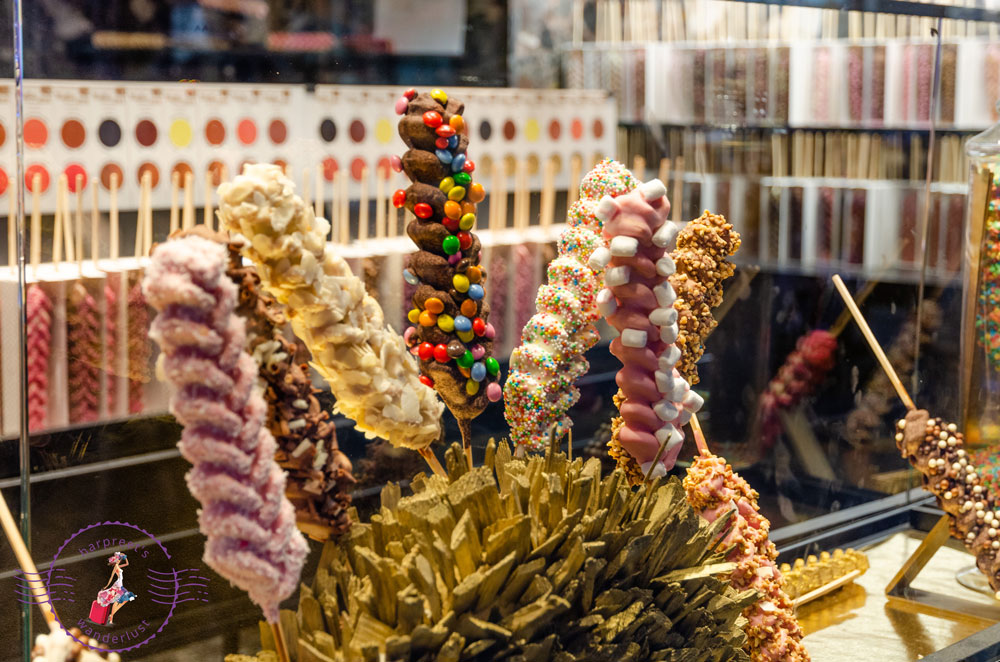 I haven't seen this shop or concept anywhere else in our travels in Belgium: trust me when I say I looked everywhere in the other cities we set footsteps in and so I am assuming it is unique to Brugges. If it isn't and you have come across Go.fre elsewhere: do let me know!
Or maybe not? I am one of those people that likes the look of a beer, and though it looks like a refreshing drink: sadly, I am not a fan!
But when in a land equally known for its beer as its chocolate and moules-frites, it may be considered sacrilege to not at least attempt to drink a beer!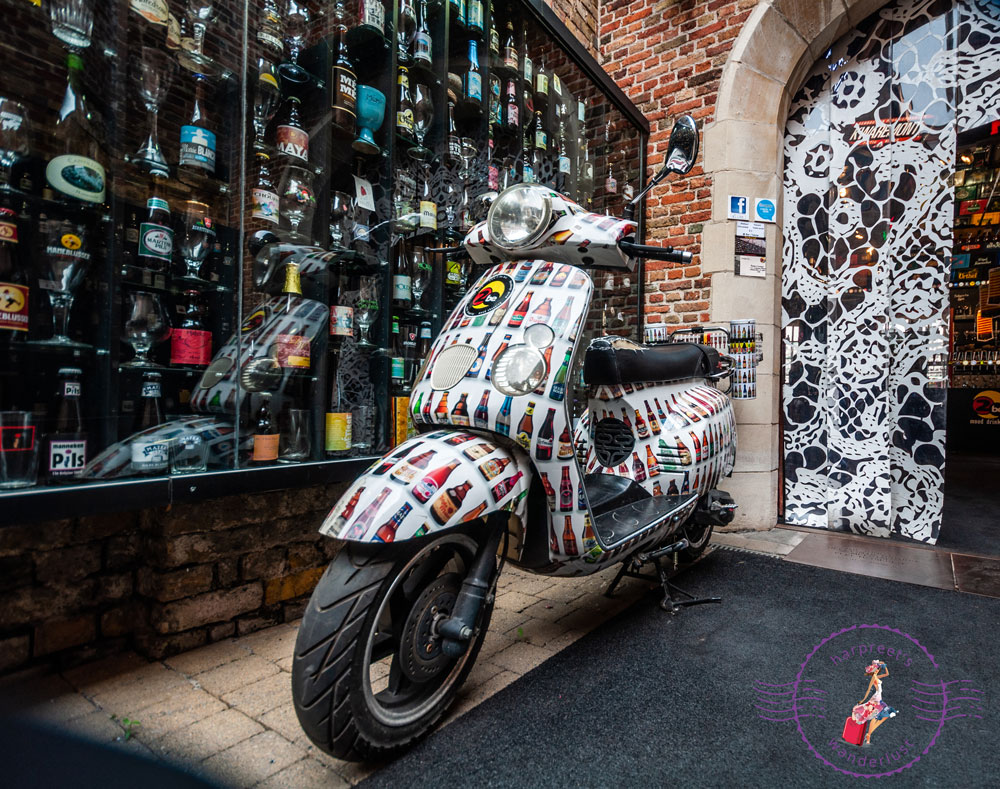 We stumbled upon 2-be in Brugges, which has a bar and a restaurant. Their beer wall is fantastic to ogle at and the bar is set on a terrace overlooking the canal, which is great for having a drink while gazing at the view!
Finally: don't forget to indulge in chocolate!
I deliberately saved the best for last: chocolate.
Brugges has its own special shops dedicated to chocolate, and while you will find the well known brands like Godiva and Pierre Marcolini, you will also find the artisan Chocolatier Dumon.
From indulging in good old milk chocolate to those filled with exciting and exotic flavours like caramel fleur d'oranger, there is a flavour for everyone.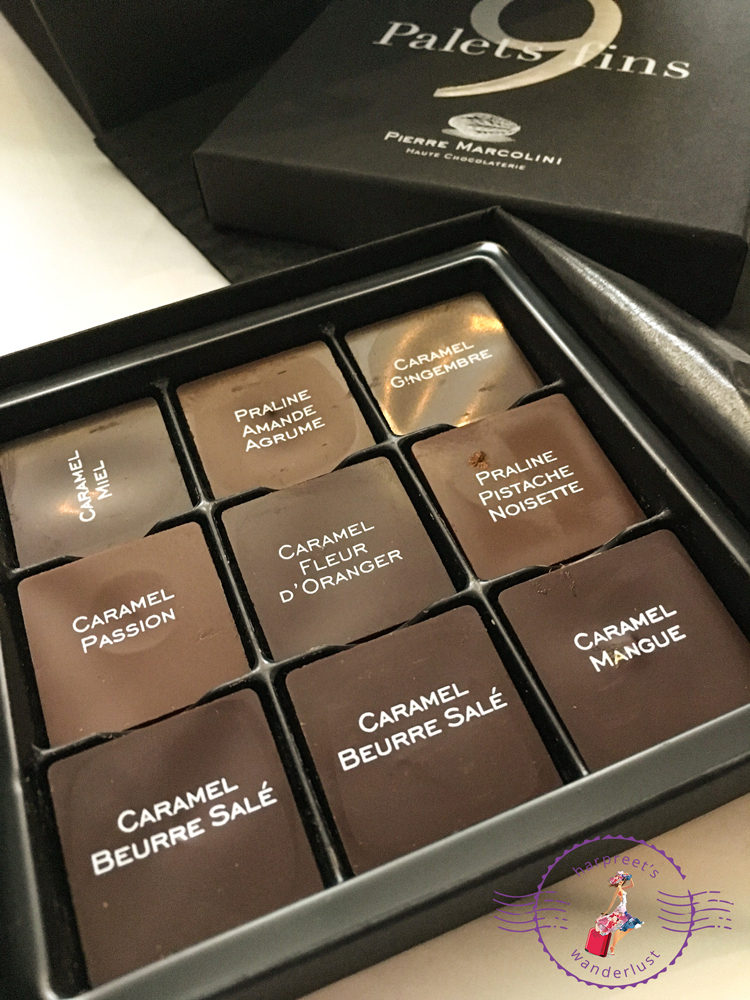 If you are interested in creating your own chocolate tour, have a read of my post on how Wanderlustmate M and I explored Brussels through our own chocolate tour, plotted and carried out with no tour guide.
https://harpreetswanderlust.com/uncategorized/footsteps-in-brussels-on-a-self-guided-chocolate-tour/
24 hours is not nearly enough time to soak in the vibe of this quaint city, but it does give you a good sense of the place and if you are anything like me, then you will have Brugges right back on your wanderlustlist to visit yet again in a few years' time!
Until next time, Happy Wanderlusting! Xoxo
Disclaimer: this is not a sponsored post in any form. The places mentioned are places we have personally been to as independent travellers, and are only referred to in order to make this a more useful article for those Wanderlusters planning to use the information to create their own itinerary when in Brugges.