Hmmm, what should we do today? I know! How about we ride an elephant and perhaps even throw in playing with a tiger? This is the stuff dreams are made of, but the Mae Ping Elephant camp situated on the Mae Ping River is the place where this dream became a reality! These gentle giants are looked after at the camp, and the visit starts with you being able to watch them be bathed, play a game of football and paint! Better than I can!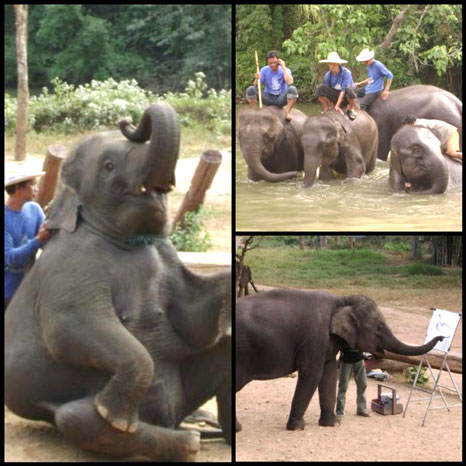 After about half an hour of watching the elephants do their thing, we got to mount one, off a wooden platform (and thankfully not off a ladder perched on the animal as I had expected) and amble across the Mae Ping River, and into the forest. Sitting atop this beast, gently rocking from side to side, is definitely an experience of a lifetime. You do eventually get used to the fact that you are sitting atop a larger than life animal and start enjoying seeing the world from an elephant's eyes!
There are several vendors along the way, selling bananas and sugarcane and the ellies are almost trained to come to a grinding halt in front of them and the cheeky gentle giants refuse to budge until bought some treats, which the mahout gestures be purchased, so be sure to carry plenty of change with you. Our first few days in Thailand have shown that these smiling people certainly have the art of separating you and your Baht's down to a fine art!!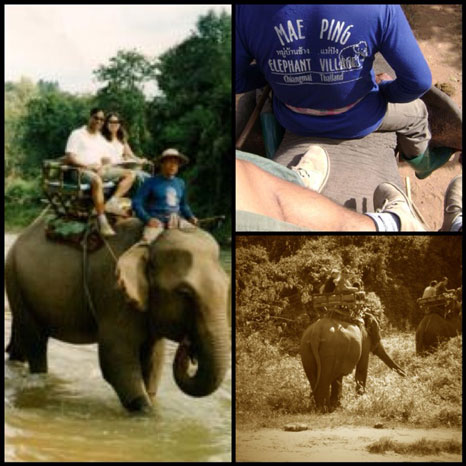 After about an hour of trekking through the jungle, we transfer from an elephant onto a raft, to glide down the Mae Ping river, wearing erm, Vietnamese looking hats?! Well, the 'cruise' was idyllic and peaceful enough, floating along watching the many settlements along the river get on with daily life, the vigil often broken with the 'sawadeeeekaaaaa' of little children riding alongside your raft trying to sell friendship bracelets which you buy simply because they are so pretty and the kids so cute!
40 minutes later, we get off the raft and onto a rickety bullock cart which bumps its way to a resort where we indulge in the all famous 'buffet' lunches included as part of these packages, not a bad spread because it does have a lot of good Thai fare like Papaya Salad and Thai Green Curry which I must say, we do enjoy! Not much choice for vegetarians though. The Thai's consider fish and seafood to be vegetarian, so if you are allergic to shellfish or a pure vegetarian, be sure to ask for Buddhist Vegetarian.
Next stop….Tiger Kingdom!!! After months of dreaming, I get to finally play with my favourite animal, the Tiger! It isn't cheap, but I quite liked Tiger Kingdom because the Tigers are not chained to stumps and wander freely (in their cages of course).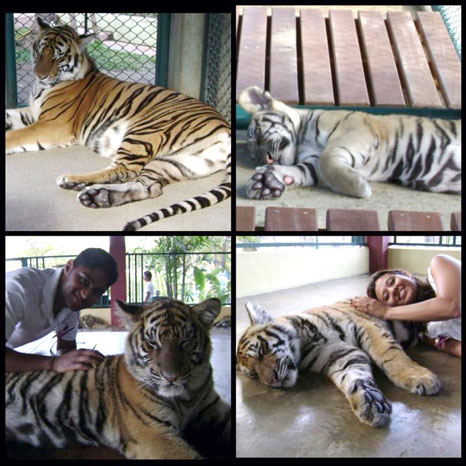 We chose to play with the 2 year old cubs, which turned out to be a great choice because the babies were fast asleep (and the most expensive category to play with). Anyway, the 2 year olds are playful and you can have a good 10 – 15 minute rumble with them and then plop on the floor for a quick siesta after! They are so playful and almost like life size teddy bears, it is easy to forget that these are wild cats…touching them on the paw means playtime, and a whack of their seemingly small but incredibly strong paws does remind you they are not docile creatures, however the guides at Tiger Kingdom do give you all the tips and tricks prior to you venturing into the tiger's territory.
A few orchid and butterfly farms later, we end up back at the hotel for a quick fresh up, drop off some laundry at the laundrette right opposite which is oh so much cheaper than the hotel and wander into the Chiang Mai Night Bazaar, for some retail therapy – hand made jewellery, t-shirts, souvenirs, and batik galore. The perfect night cap!