Nestled in the north of Thailand, is the idyllic beautiful city of Chiang Mai, the second biggest city after Bangkok. Easy enough to get to via Air Asia, we arrived nice and early thanks to the numerous flights AirAsia has and were able to get a taxi for a fixed price of 150 baht straight to our hotel from Chiang Mai Airport.
A quick bite on AirAsia – this is a fantastic, no frills, cheap way to travel around South East Asia. The drawback with the airline though is you have to be very sure of your dates as there is a no cancellation policy, and you pay for everything – including baggage. So travel sure and travel light when choosing this airline.
Chiang Mai is bounded by moats and partial walls, and the main city is bound by a wall running round the entire periphery, giving it a very medieval feel. Our hotel, The Royal Princess Chiang Mai was huge and within walking distance of the Chiang Mai Night Bazaar.
Our first pit stop was the Wat Phra That Doi Suthep, on of the most sacred temples of the north nestled near the summit of Doi Suthep, a peak in northern Chiang Mai. The drive was beautiful – studded with greenery and winding roads, past the Chiang Mai zoo (which I wish we had now gone in to because they had panda bears) and took about 45 minutes from our hotel. The winding road leads to a staircase with 306 steps, aligned with a dragon on either side – legend has it that if you climb the staircase holding the hand of your girlfriend or boyfriend, and don't let go, you get married….if the fact that M and I are now married bears any ode to this…well, just do it!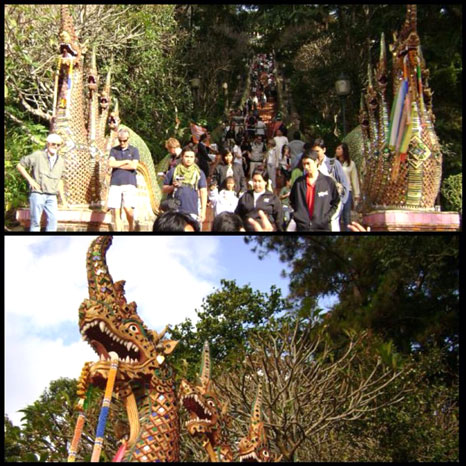 In any event, the climb is well worth the view from the top, and there are plenty of vendors selling water and ice cream and delicious looking fruit every few steps! There is also the option of riding a tram to the top, but I would recommend the climb!
Within the temple grounds itself, there is much to see and do, however two things stand out – the seven stages of the life of the Lord Buddha, which have been depicted beautifully with gold statues. There are oil lamps which are kept alive by devotees feeding the flame, and apparently this light is never extinguished.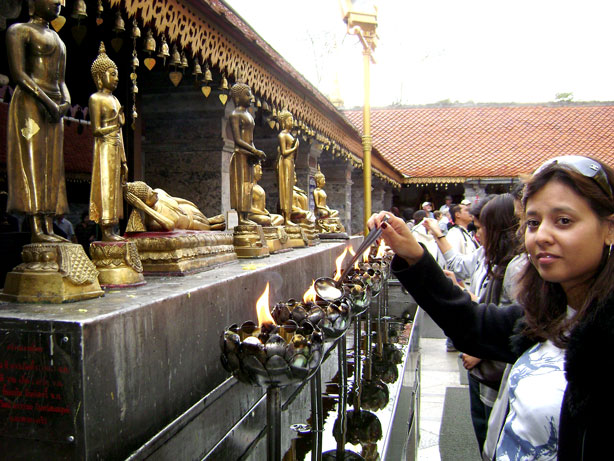 There is also a humongous stupa (sadly under construction when we visited) which has been adorned with bells with little leaves attached to it – again, legend has it that if you write your name on these leaves and attach it to the stupa, whatever you wish for comes true….don't ask me what I wished for, I can't remember! Anyway, the bells do get melted to create a statue of the Lord Buddha, eventually……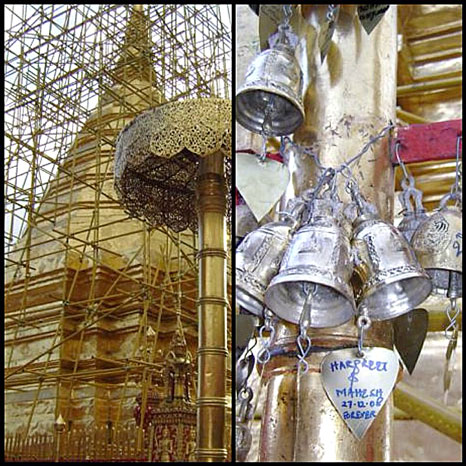 The view from the top, as promised, is breathtaking and the city of Chiang Mai stretches out as far as the eyes can see…..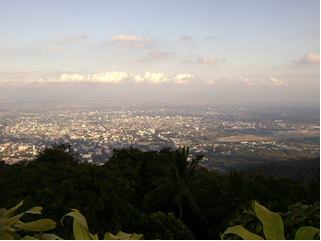 Dinner that night was the much peddled "Khantoke" dinner, which was sold to us as "a traditional northern Thai dinner in a traditional setting" but which in reality, turned out to be a hall, jam packed with tourists, with waitresses adorned in what I would assume is traditional Thai attire plonking down plates with little bowls full of cold, and less than appealing food, ushering you to eat as fast as you can so the next lot can come in!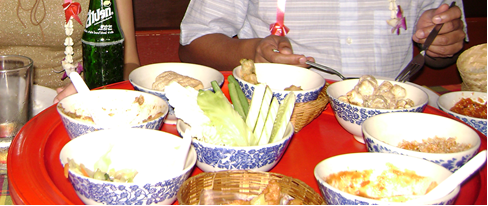 The redeeming factor were the dances, which were very nice and gave us our dose of northern culture as was the launch of the lanterns with candles in the end – we got to launch our own lantern, which was quite nice albeit "touristy."