Heading away from Sigiriya, we hurtle along the narrow, winding, tree lined road towards the second and probably more grandiose of the ancient cities, Polonnaruwa, which was once the royal ancient capital of Ceylon. It is during this drive that I notice Sri Lanka is chock full of stray dogs – they are everywhere, and we see strays every few minutes, it is quite sad and I wonder whether they have animal rescue programmes like we do in Kenya, with the KSPCA.
The drive to Polonnaruwa takes us about an hour from Sigiriya, through roads lined with thick bush at some point, where Ravi points out to us that we are in the midst of the Minneriya National Park and there is a good chance that we will spot some wildlife en route to Polonnaruwa. Sadly, we don't, but about 15 minutes before arriving in the ancient city, Ravi turns off the MRT Highway and onto Chandanapoka Road in Giritale town, where a local boy has mastered the art of luring water monitor lizards by feeding them raw meat off a stick.
This boy lost his finger to a monitor, but it still doesn't stop him from luring these dinosaur like creatures out and we marvel at them, slowly climbing out of the water and jumping to grab at the meat at the end of the stick. Do give him some money for meat if you see him – he doesn't expect a tip and this isn't his livelihood, but nonetheless it is nice to leave a little something with him…
Finally, we arrive in this glorious ancient city, and I am once again reminded of being back in Siem Reap, with its glorious temples. It is easy to spend a whole day here, ambling amongst the sights and letting your imagination wander into another era. Not surprisingly, this city too, has made it into the UNESCO World Heritage List. The ticket costs US$ 25 per person, but is valid for all sites within the ancient city for a day. We start off by exploring the Royal Palace Group, which is a good 20 minute walk away from the car park. There are a tonne of monkeys around here, and I can hear the faint strumming of a musical instrument in the distance. The Royal Palace Group has the Royal Baths and a stunning audience hall.
The sun god doesn't grace us with her presence long, and we have barely been in Polonnaruwa for an hour when the heavens open up again. Luckily, Ravi had the good sense to bring umbrellas from his car and so we are barely sheltered as we rush back to the car, making it just in time before the cats and dogs start coming down. I am sat in the car, wondering which idiot is sat sticking pins in her voodoo dolls of us? The rain is following us like a bad smell and I am starting to get incredibly annoyed now.
I suppose everything happens for a reason, and the rain gives me a chance to flip through my lonely planet to see what is next. I notice that we are right opposite the Polonnaruwa Quadrangle, which has been described as "an archaeologists playpen" because it has the most concentrated and stunning architecture in this ancient city. And I cannot wait for the rain to cease somewhat and be let loose in this playpen for a while. The witch must have stopped her pinning because thankfully, the downpour let up into a mild drizzle, and M and I bite the bullet and walk up to the Quadrangle.
The Quadrangle is nothing short of stunning. Stone ruins of various ancient monuments and buildings spread out before us, each with its own significance. For me though, the most stunning monument is the Vatadage, a circular monument flanked with guard stones and moonstones, with four entrances, each flanked with stunning Buddha Images, and stepping into this relic house, I am awash with a sudden calming energy, similar to how I felt in Banteay Srei in Cambodia. I cannot help but wonder whether I was a Buddhist in a past life, these images always have such a profound effect on me and seem to calm my monkey brain and soothe my soul. Thanks to the rain, the Vatadage is devoid of tourists and I can soak it all in, the drizzle lending a somewhat calming effect to the whole ensemble. I could have spent hours in the Quadrangle, and my advice would be for you to start off with this fascinating area before wandering off to the Royal Palace area.
Reluctantly dragging our feet away from the Quadrangle, we get back into the car and drive past Rankot Vihara, the largest dagoba in Polonnaruwa towards the Northern Group's Gal Vihara, an area which houses a spectacular collection of Buddha Images all carved out of the same slab of granite. I almost don't notice the gravel poking into my bare feet as I walk towards these images to get a better look. There are four in total – a standing Buddha, two seated images, and my favourite – the reclining Buddha image. Wisps of incense smoke wafts around these images, giving the entire area a rather surreal ambience. On a lighter note, the stray dogs of Sri Lanka seem to have made themselves rather comfortable here, one choosing to mark its territory rather unapologetically against one of the seated Buddhas, barely finishing his business before being chased away by an annoyed monk. It seems blasphemous of the dog and I feel rather guilty for even telling you this!
We have spent a good 4 hours in this ancient city, and we are ready to head back to Heritance Kandalama. We spot yet another beautiful Buddha Image in the wilderness, and a few minutes later, a beautiful elephant on the way back, and soon enough we see the silhouette of the majestic seegeeree looming before us.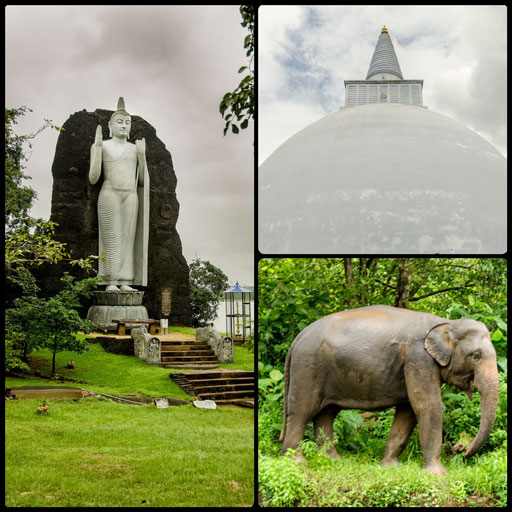 I am excited to be back at the hotel, it is Christmas eve and the hotel has gone all out to prepare a feast fit for a king, and I cannot wait to indulge! We are welcomed into our room with a basket full of goodies – home made fudge and nougat and chocolate and all things sweet and nice. Soaking in the Jacuzzi, staring wistfully across Lake Kandalama, I cannot help but say a silent prayer of thanks to the Universe, for bringing my footsteps to such a beautiful part of this stunning planet.
The entire hotel has been magically transformed into a winter wonderland. The Christmas Eve dinner at the Heritance Kandalama is the stuff that legends are made of – so popular that even the locals book months in advance to eat here.
The chef's have outdone themselves and we are more than spoilt for choice on what to eat. A gigantic wine glass made entirely from chocolate welcomes you into the festive hall, which is bursting at the seams with every type, kind and morsel of food imaginable – this is a foodie's idea of heaven. From a bar-be-que corner grilling every imaginable meat and of course the signature Christmas eve turkey, to a Sri Lankan rice and curry corner, to a Mexican corner with chefs in sombrero's filling up fresh tacos and grilling hot burritos, to areas dedicated to just bread and desserts, a German delicatessen hung with sausages and cured meats….and as if that isn't enough to tantalise one's taste buds, the hors d'ouevre are simply divine …from beautiful, delicately arranged seafood, to choux pastry brioche piped with delicate pates, to creamy fluffy mousse made from every imaginable meat and sea creature….the list is endless!!
This has indeed been a fantastic way to end our sojourn in Dambulla. Tomorrow, we head to the cultural capital of Sri Lanka, Kandy…let's see what adventures beckon here…