Our minds turned to dinner. Given that the only restaurant that we saw next door to Ranweli was something by the name of "Anthony's", we flip open and leaf through the pages of our trusty Lonely Planet guide book and note that Lords is rated as a top choice, and so venue decided, off we go, to eat at Lords, on Beach Road.
The car ride from Waikkal to Negombo takes about 15 minutes, and Ranweli is nice enough to organise a car and driver for us, albeit at a steep cost of 2500 Rupees, which includes the driver waiting for 3 hours, and his tip too.
Lords is named after a cricket pitch, and is a collection of bars and restaurants with quirky crickety names such as "The LBW Bar", "The Umpires Lounge", "The Boundaries" which also doubles up as an art gallery showcasing the local talent.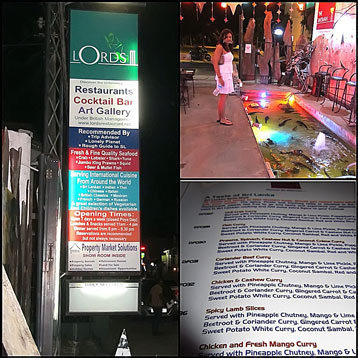 There are ponds with fish adorning the entrance to the various restaurants, and we make our way to the back, towards the Batsman Restaurant where we are told there is a seafood buffet. A section of this area is filled with tanks of crustaceans and seafood, where you pick your crustacean of choice which is then cooked to order, and served up with a selection of Sri Lankan accompaniments. The most obvious choice is to go for the platter for two, which is quite reasonably priced, but given that I eat all the seafood in this relationship (more like I "see food and eat it"!!!) we find the platter for one to be a tad bit overpriced.
The gravel garden area in the Batsman beckons, and seems full of diners, so is a nice choice to sit in. The waiters are incredibly helpful and friendly, and have soon set us up on a lovely table to enjoy dinner. The restaurant owner, Martin is a British expat who has made Sri Lanka his home, and is incredibly hands on, recommending a crisp white bottle of Australian wine, and explaining the menu to us. Very impressive.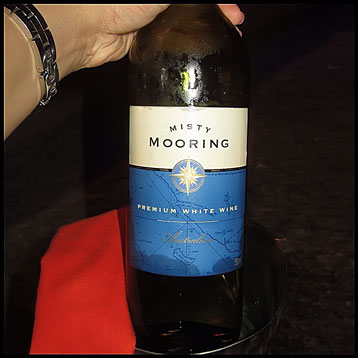 Enjoying our crisp, chilled Misty Mooring, we revel in the atmosphere around us – we can see the chef from the seafood buffet whipping up his delicacies, and glancing upwards, I spot a balcony with tonnes of clothes hanging on it, which suggests that the restaurant is set up in a residential area, and a cursory glance around confirms this theory because we see rooftops of other houses around us.
The menu is a melting pot of cuisines, which makes choosing a starter a tad bit difficult but we settle on Thai Chicken Satay, which turned out to be delicious and peanutty, though the portion was on the skimpy side.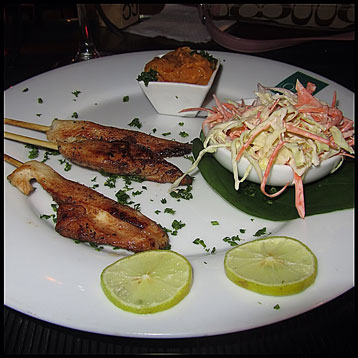 We choose to forego any Indonesian and Thai specialities for our mains, and to try the Sri Lankan Rice and Curry specials; M has the chicken and I try the prawns. The dishes are elegantly served up with red rice, a selection of vegetable curries, coconut sambol, pickles, chutneys and poppadums. Having eaten fiery hot curry in the aircraft, we opt to have our dinner served to us mild, but find that it is perhaps too mild for the Indian palette, we are used to hotter food. Still it was delicious though, and much enjoyed.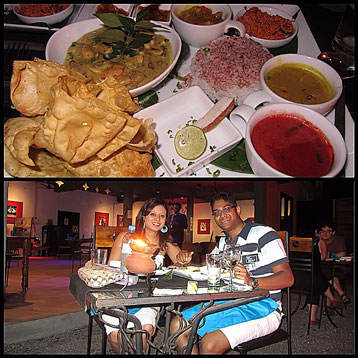 The menu also has the story of how Lords was established, and stories about the owner's dog rescue programme (The Hope Foundation). Our soiree is cut short by our driver, who has decided it is time for us to head back to Ranweli and has rudely interrupted our nice dinner. I'm thinking to myself – hang on, we haven't even been here for 2 hours yet, and we were given 3 by the hotel?? Anyway, we finish up at our own pace, pay our bill and saunter out, past a rather dirty looking fish spa, which I am rather glad I didn't see when we walked in…
Our driver drops us off at Ranweli, and then demands a tip…how he expects to be tipped after interrupting our dinner is beyond my comprehension, especially as the exorbitant rate of LKR 2500 included a tip, to be sorted out between the hotel and the driver. Go figure!
I drift off to sleep amidst soothing sounds of the waves crashing against the boulders on the beach. Tomorrow, our footsteps will head to Dambulla, our base for exploring the ancient cities and I cannot wait to explore the fascinating Sri Lankan culture.