Our Sri Lankan adventures truly start today! We are full of zest and zeal, ready to explore this beautiful country, after a restful nights sleep and a good breakfast at Ranweli. There is a good selection for breakfast at this hotel, the usual spread of fruit, cold meat, bread, cakes, pastries, eggs made to order as well as hot bacon and sausages, and an interesting selection of Sri Lankan food too.
We make our acquaintance with Ravi, our driver and guide for the next 12 days. Today, We are going to be driving from Waikkal to Dambulla, the heart of the cultural triangle and our base for exploring the ancient cities of Anuradhapura, Sigiriya and Pollonaruwa, in the cultural triangle of Sri Lanka.
Something about Ravi strikes me immediately. He is warm and friendly, and has this amazing energy about him. We soon learn that Dambulla is Ravi's hometown, and that he drove to Waikkal early that morning to pick us up.
We drive through Negombo, stopping briefly to catch a whiff of drying fish at the town's fish market (if you can drag yourself out of bed at the crack of dawn the fishermen come in at about 6 am with their catches), and also take a brief stroll around the the dutch canals littered with house boats and fishing boats.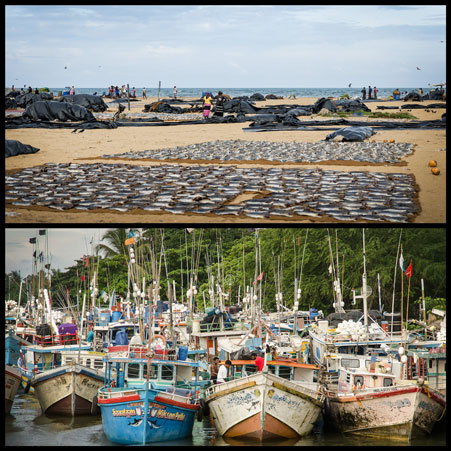 Ravi is passionate about his country, and gives us snippets of information on the 2 hour drive all the way from Waikkal up to Dambulla, and he endorses his country with such pride that excitement cannot help but coarse through my bones at all the adventure that beckons over the next few days. As we drive northwards, the weather turns from gorgeous blue skies and sun, to thick grey clouds, and soon the beautiful weather that we experienced in Waikkal is soon a memory.
Ravi suggests that we tour the Dambulla Cave Temple before we check into our hotel, which turns out to be a good call because it has started to drizzle. The entrance to the cave temple is on Kandy Road, and tickets cost LKR 1200 each. The ticket office is not easy to spot, and can easily be missed – you will need tickets to go to up to the caves so make sure you find the ticket office and buy them before proceeding, because getting to the caves is an adventure in itself and the last thing you want (unless you are an exercise junkie) is go all the way to the top without a ticket.
Buddhism runs deep in the veins of Sri Lanka and the Cave Temple is Sri Lanka's oldest cave temple, situate on a 600 foot high rock, home to one of the worlds most acclaimed cave complex of magnificent Buddha Images and Rock Paintings, done in somewhat vivid colours. The entrance to the temple is flanked with a large golden stupa with a large golden statue of Buddha sitting atop an open lion's mouth facing it from the main complex.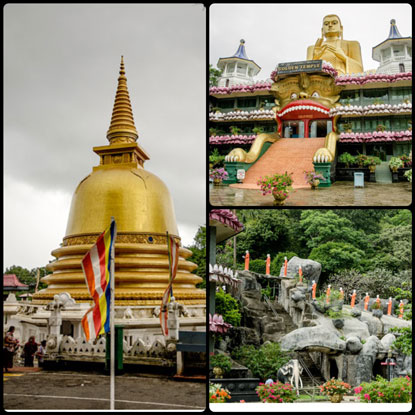 On the right hand side of the complex, there is a beautiful procession of clay monks, clad in orange robes coming out of a cave walking towards the golden Buddha with various offerings.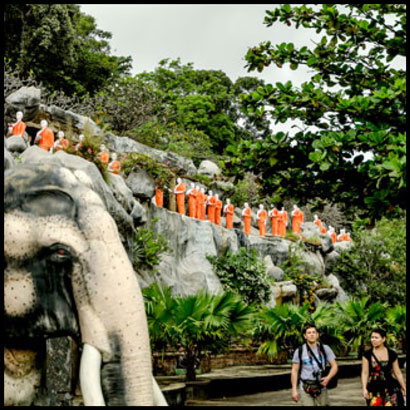 The main entrance to the caves is on the left side of the complex, and boy are these caves a trek from the main entrance. We start the climb, onto never ending stairs and as we begin our ascent, the heavens decide to open up. We have no choice but to soldier on, climbing the stairs and trying to use the shade of the trees to keep as dry as we can, which is futile. My trusty safari boots are soon waterlogged and i am almost tempted to take them off and climb barefoot. This is one heck of a workout and I am soon puffing and panting, wondering when we will ever get to this enigma of an entrance! My new years resolution is to spend more time working on my stamina at the gym. Yeah, right!
After what seemed like hours (but was really just 20 minutes), the actual entrance of the cave temples loomed before us. But, your shoes need to be removed prior to entering and lucky for us, Ravi had a tonne of friends at the temple who guarded our shoes. Otherwise you have to leave your footwear at the shelves marked for foreigners and pay a ludicrous amount of rupees, or simply just bundle them into your bag if it is big enough. This is a temple after all, and so you have to be decently dressed, or at least have your knees and shoulders covered. The ticket is also checked here, and woe betide if you didn't heed my advice and buy one at the bottom! Because that means you will have to trek all the way back down and buy a ticket before you can enter the cave complex at the top…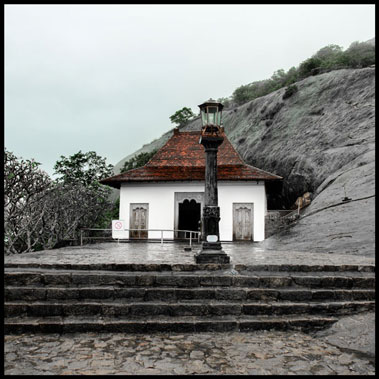 At this point, the drizzle has turned into a fully fledged thunderstorm. We can see the caves that we are meant to be exploring, and given that the Rain God is really doing a number and we are soaked anyway, dash to them to start our Buddha sojourn.
The caves are numbered from 1 to 5, each one with a myriad of Buddha images in various postures, totaling a whopping 150 images. It is easy to get "statued out" here, but the images are beautiful, and if you understand Buddhism the statues and their various poses will have more significance. One cave in particular stood out for me. Cave 2, The Temple of the Great King has wooden and clay statues of the Ceylonese kings, as well as a Buddha image that was once covered in gold leaf. What strikes me about this cave though, is a bucket in the middle of the cave where water is dripping. This water source never stops dripping, even in the drought and so is considered sacred, and the water used for rituals. This reminds me of amrit, the holy water used by the Sikhs and strikes a chord close to home.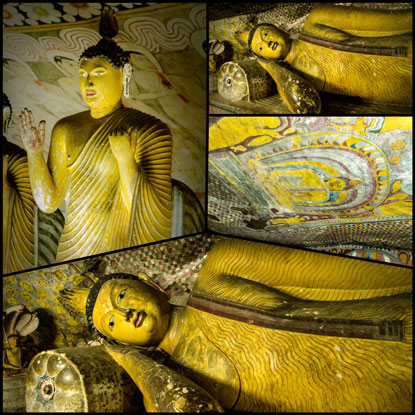 We spend about 45 minutes in the cave complex and then start our descent back to the entrance. I spy some monkeys on the way down, and remembering my dilemma with the monkeys in Ulu Watu, Bali earlier this year, stay well away!! Thankfully, by the time we get to our car and start our journey to our hotel the rain has stopped, but the surrounding countryside is shrouded with mist and we cannot see Sigiriya rock or anything else. The ascent down was easy enough, but I cannot wait to get to Heritance Kandalama and get out of my waterlogged clothes and have a hot shower!
The drive to the hotel takes a good 30 minutes from the cave complex. I have so many good things to say about this hotel. Where do i begin? From the warm welcome you get the minute you arrive, with a lotus flower in folded hands and a beautiful smile, to the welcome drink and towel, to the accommodation, but what makes this hotel one of the best I have ever stayed in, are the staff. No task is too big or small for the wonderful people behind the scenes of this establishment.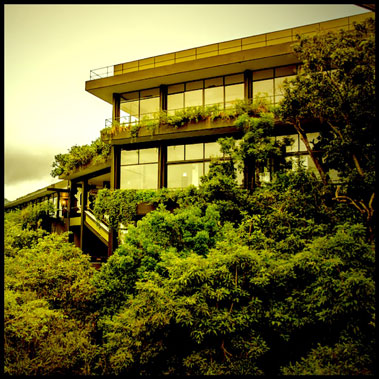 At check in, we asked for a room with a view of the lake, on as high a floor as possible. We had booked a deluxe room, with a jacuzzi. Thanks to Nilesh, we got room 503, one of the better rooms, I would say, because the hotel is huge. We had a spectacular view of the lake and Sigiriya Rock. The hotel is over 1 km long, but we were perfectly situated, not too far from the eateries. It can get a bit noisy from corridor noise filtering in but this is drowned out by the beautiful music you can play in your room. The panoramic view of the lake and the rock more than make up for any noise.
The room is cosy, wood floored and wood paneled with excellent amenities. Fluffy bathrobes, bedroom slippers, shower gel, bath foam, lotion, soap and shower caps, and freshly laundered towels. There is a TV but at such an odd angle it is pointless turning it on…but we had no time to watch it anyway. There is a well stocked ( and not too badly priced mini bar), tea and coffee making facilities and two complimentary bottles of water a day. The bed is so comfortable but the pillows are so thick they give you a neck ache! We asked for smaller pillows, which were provided at a moments notice but they are just smaller versions of the bigger ones on the bed.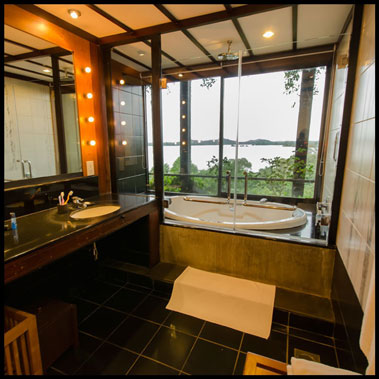 The best bit about the room is the huge bathroom, with a jacuzzi by a huge wall to wall window, from where you can gaze out onto Lake Kandalama, and on a clear day, see Sigiriya Rock too. Needless to say, as soon as we got into the room, the jacuzzi was filled and I sighed with relief as the hot water soaked the cold away from my bones, all the while enjoying the panoramic view from the large windows, gazing wistfully across the misty lake, looking forward to dressing up and enjoying some music in the lounge before indulging in a gourmet dinner at the Kalu Diya Restaurant.
Tomorrow, we will be up early to start exploring the ancient city of Anuradhapura.