Are you a fan of chocolate?
Wayne Gerard Trotman got it spot on when he said about these delicious morsels of delight that:
"As long as there is chocolate, there will be happiness"
There are many theories as to how chocolate was invented, some say the Mexicans and other the Aztecs, but whatever the case, it is undisputed that chocolate is now universal.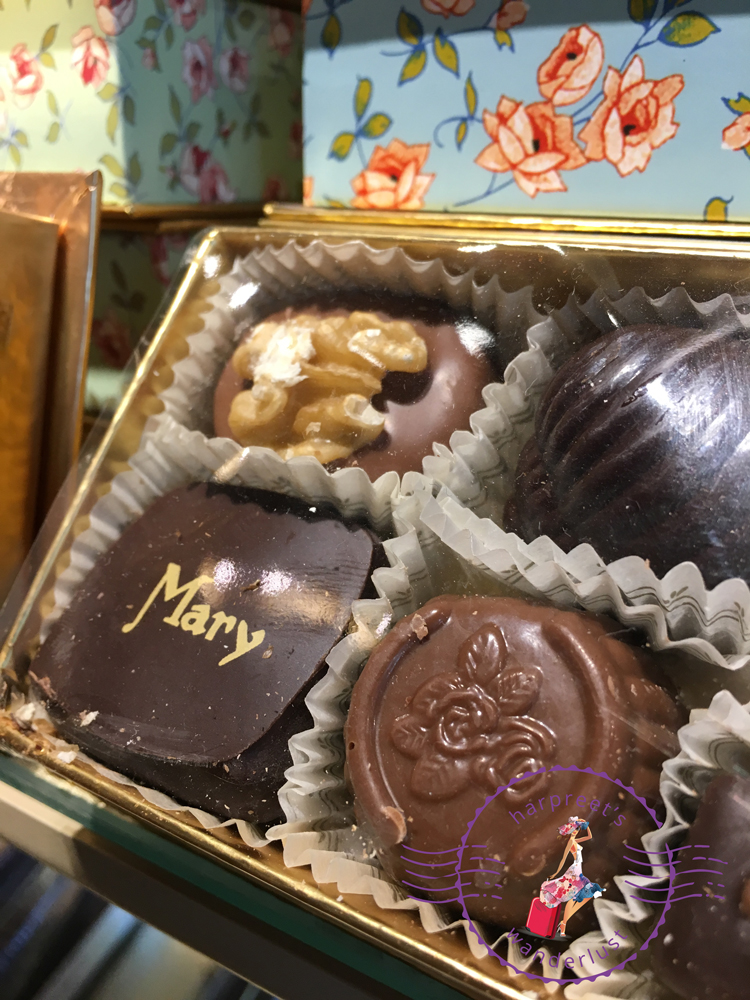 Let's head to Belgium then, shall we?
Known for beer, frites and waffles, Belgium is also famous for its chocolate. After all, the praline was invented in Brussels over 100 years ago, so it is no wonder that Belgian chocolate is rated amongst the best in the world!
It is here in Brussels, that one of the most popular things to do is to take a chocolate making class, or the next best thing: a chocolate tour. With a plethora of brands and names to choose from, you are spoilt for choice.
A chocolate crawl is, in my view probably the only way to do the world of chocolate justice. Going from shop to shop means you not only get to sample the goodies on offer, but you also get to choose a favourite or three to bring back home. If it lasts that long, that is!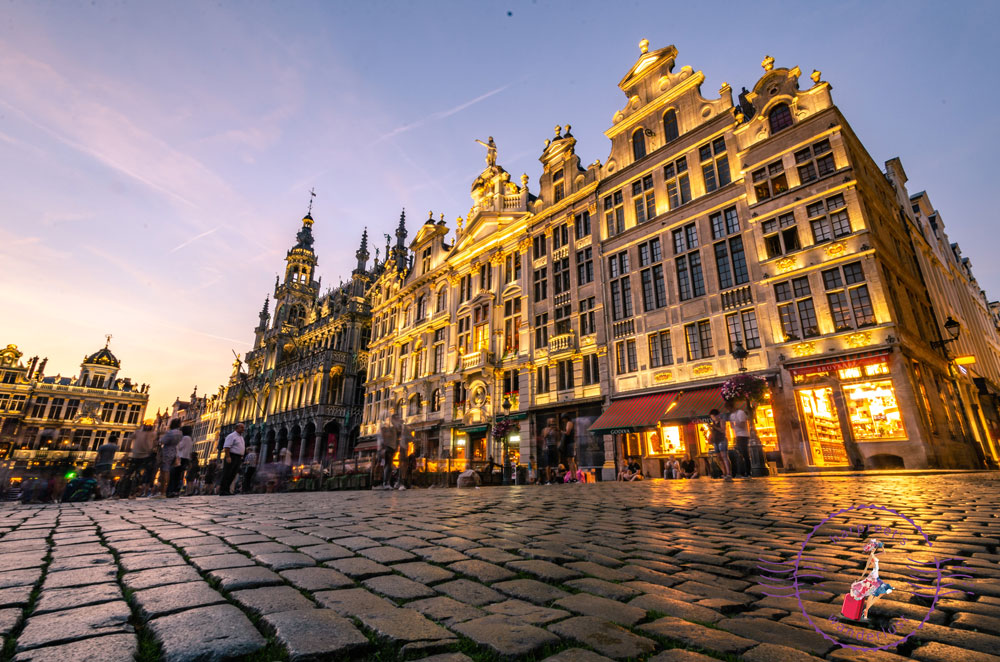 A self-guided tour – recommended or not?
Brussels has many guided chocolate tours on offer, some of which are pretty exciting, but sadly, none that actually appealed to us.
In doing our research, we found a common theme. One was that most guided chocolate tours only visit well-known names where the samples on the tour are pre-selected. The other was that if there was something specific you wanted to try, you had to pay extra but, as most tours are quite regimented, you could miss out on sampling something that really caught your fancy. And the third was that guided chocolate tours last between 2-3 hours, which can be pretty intense, for sampling chocolate.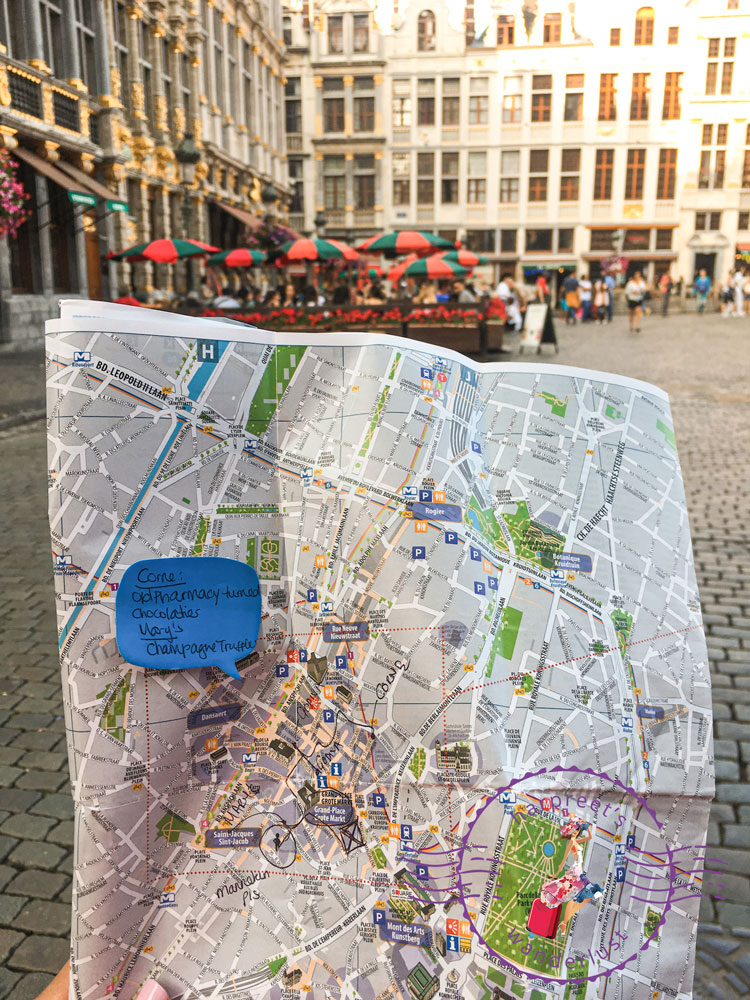 As the chocolate shops have such a large variety to choose from, we felt that it would be a shame to miss out on discovering our own favourites because of ahem, regimented rules and regulations.
I am trying not to be too critical about guided tours here – some people swear by them and others do not, it is all a matter of personal choice, and either choice is absolutely fine.
And so, with all these factors in mind, Wanderlustmate M and I chose to tailor our own self-guided chocolate tour.
Crafting our own itinerary allowed us to get creative and let us explore the shops that we really wanted to at our own pace.
Best of all, being a self-guided chocolate tour, it spread the sampling through the course of the day. This meant that we could indulge in little treats at regular intervals without gorging ourselves and getting "chocolated out" – not that I believe in such sacrilege!
Where to start?
Brussels has a plethora of chocolate shops scattered everywhere but the Grand Place is the perfect starting point for a self-guided chocolate tour.
Grote Markt or the Grand Square, as it is also known is the centrepiece of Brussels. This is also where some of the most iconic and oldest chocolate shops are located.
A good teaser would be to walk through Galeries Royales, the shopping arcade a couple of minutes' walk from the Grand Place. This arcade is similar to the Galeria Vittorio Emanuele in Milan and has two segments known as Galerie du Roi and Galerie de la Reine. All the well- known brands: Godiva, Neuhaus, Leonidas, Mary, Pierre Marcolini have flagship shops within this arcade.
I would recommend walking through the arcade because it is really pretty, but, the real charm is popping into the shops outside of the Galeries Royales, as and when you find them along the way when touring Brussels.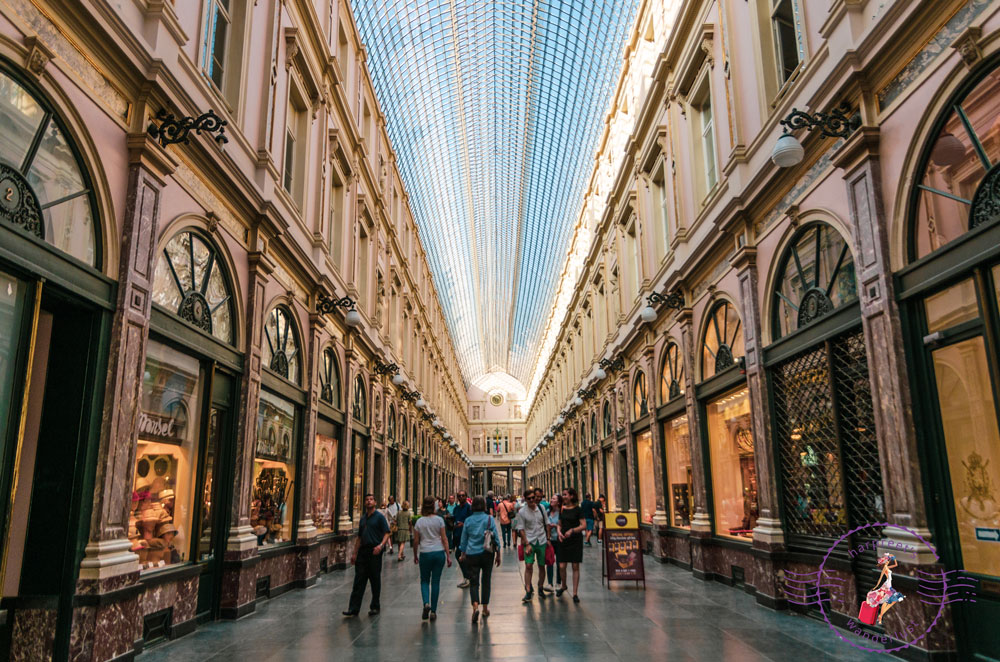 How to get the most out of a self-guided chocolate tour:
A chocolate tour is a day of indulgence, so my advice would be to forget about counting calories, at least for today!
The best way to get the most out of the experience is to "eat with your eyes" first. The shops themselves are so beautiful, and you can be forgiven for literally feeling like a kid in a candy store!
Take your time looking at all the varieties on offer first. Thankfully the shopkeepers are used to chocolate crawls and are more than patient and don't rush you! When you have perused the shop, I suggest purchasing one or two pieces of the flavours that sound most delectable to you. This is one good way of figuring out what your favourites are.
Most shops allow you to purchase by the piece but some do insist on grams. In all the shops we visited, the merchants spoke good English and were very knowledgeable and helpful.
A good tip is to ask for recommendations because nearly all the shops have a signature creation that they are proud of, and this is a great way of trying something that is unique to the brand.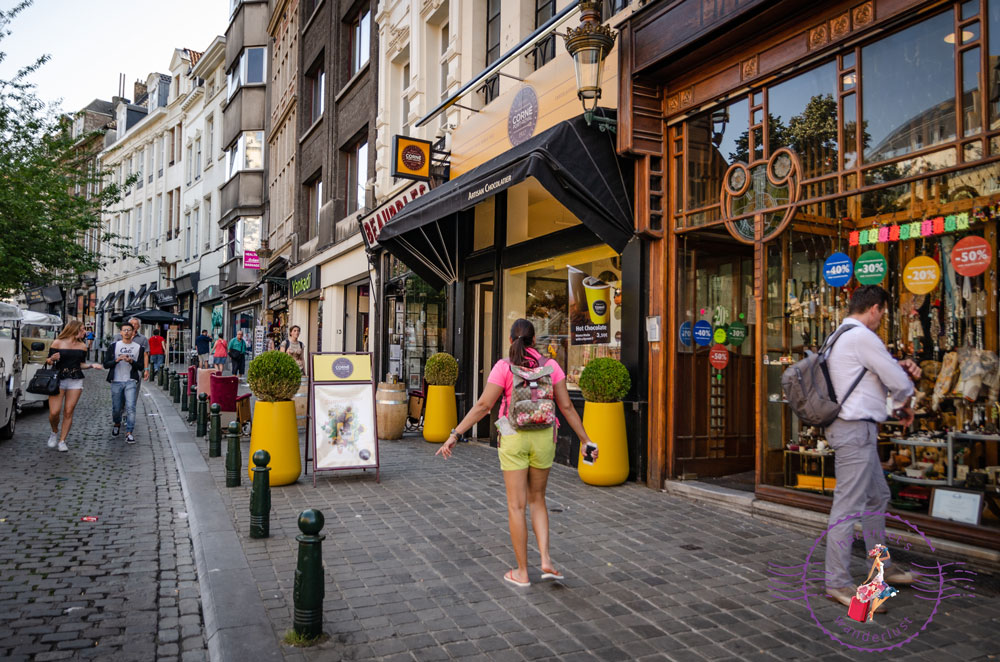 And now, for the Chocolate Shops themselves:
I can't say with conviction that I loved one more than the other, but, with everything in life, there are favourites and then firm favourites and so, the shops are listed in order of how much I loved them.
I'll put Mary at the top of the list because I am biased: Mary Delluc was Brussel's first female chocolatier and she opened her shop in 1919. No word of a lie: the chocolate at Mary is quite literally to die for!
The décor of the shop is all things girly and pretty and I was swooning over the delightful packaging: gingham and floral in delicate pastel colours.
Mary's boxes are truly luxurious pieces of art. The shop in Galleries Royale has an Art-deco style tea parlour where you can indulge in your love for all things chocolate.
As CNN put it perfectly:
" Mary, One of the Fifteen of the World's Happiest Places!"
Sampling just one piece of chocolate here wasn't enough for me. I had to give in to my inner child, a secret chocoholic and buy a bagful of Champagne Truffles. Confession: as you may probably have guessed, this bag never made it home because the truffles were scoffed well before we left Brussels!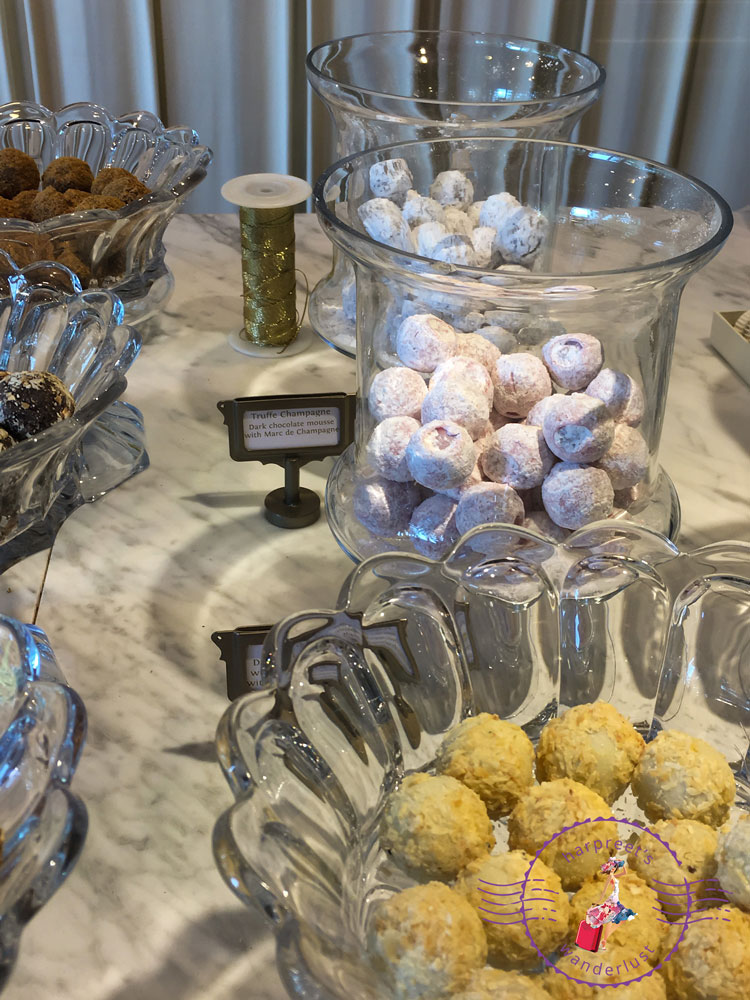 Sample: Mademoiselle if you like salted caramel flavours, but highly recommended are the truffles for which Mary is famous.
The Champagne truffles are worth every penny and the taste will linger in your memory pretty much for eternity. No exaggeration here!
Address: 36 Galerie de la Reine, 1000 Brussels.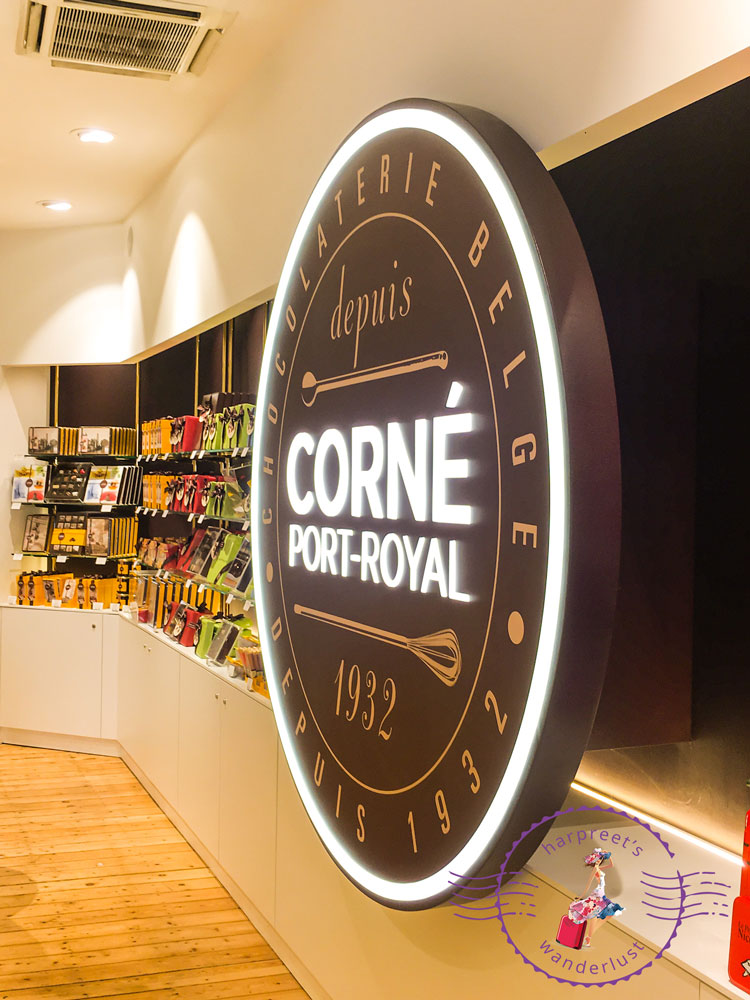 This chocolate shop was founded by the pâtissier Maurice Corne in 1932, who specialised in pralines. Maurice added Port-Royal to Corne to distinguish between the delicacies found here and those of his family, who also took to making pralines on seeing his success.
In doing our research, we read that Corne Port-Royal produces the best pralines in Brussels, even though pralines were discovered by Jean Neuhaus. And so, this is what put Corne Port-Royal on our must tour list.
I must confess that even though the pralines were delicious, something else stood out in my mind more.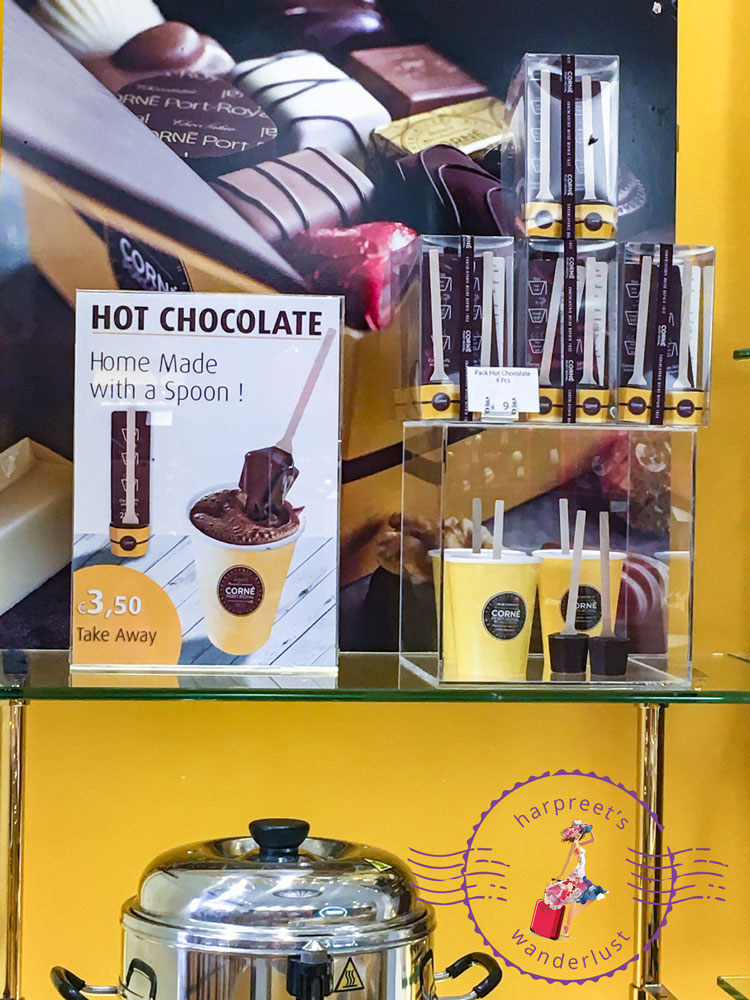 The hot chocolate.
A block of chocolate on the end of a wooden popsicle stick is what stole the praline's thunder. Deliciously thick and creamy, it took me back to the scene of Augustus Gloop drinking out of the chocolate river in Willy Wonka's chocolate factory because in my imagination, Corne Port-Royal nailed that taste!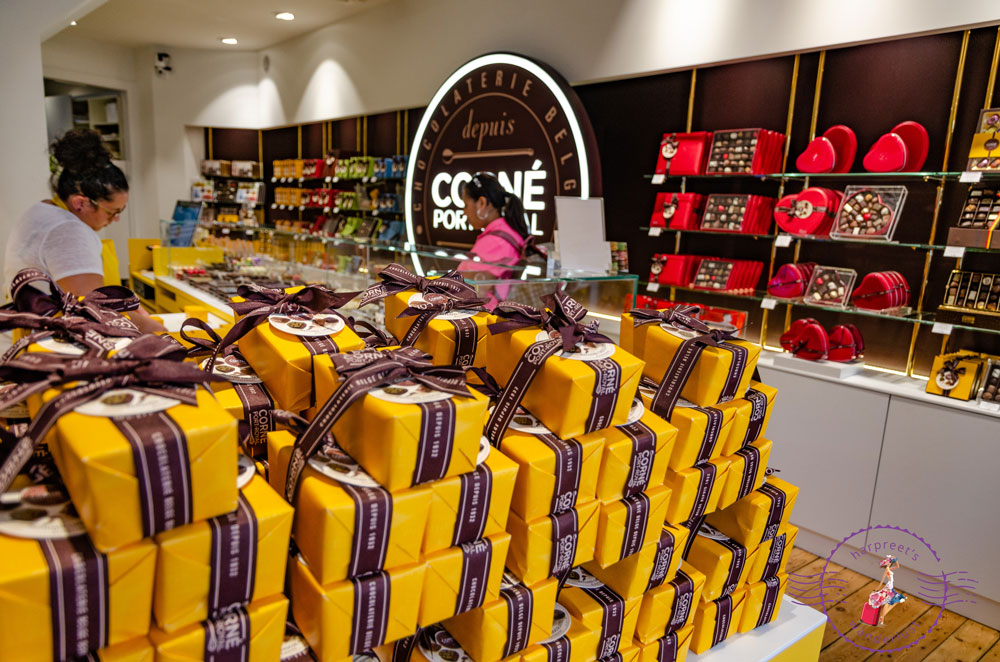 Signature item: the Manon Sucre, which is a praline with smooth cream and walnuts, adorned with confectioners' sugar.
Flagship Store: found inside the Galerie de la Reine, which is admittedly its prettiest store with its Art Nouveau architecture. However, we sampled our chocolate at Rue au Beurre, just off the Grand Place.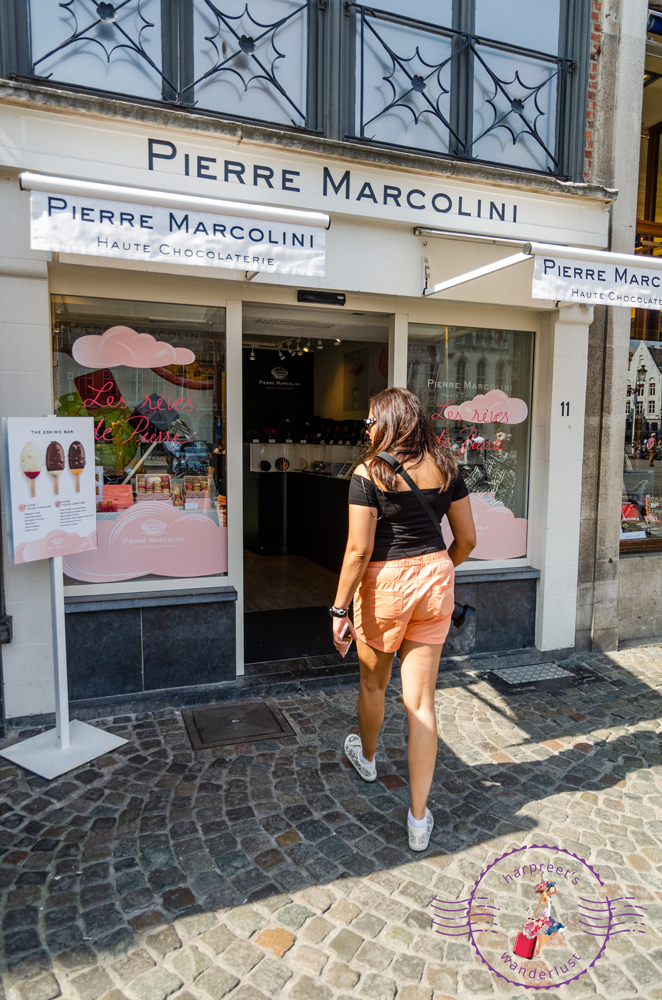 I read somewhere that even though Pierre Marcolini is relatively new to the chocolate making scene compared to some of the others, his chocolate is known as the "Lamborghini" of chocolate.
Pierre Marcolini is one of very few chocolatiers that sources his cacao personally, and then roasts the beans himself, which is unique in itself.
I distinctly remember that the chocolates in this shop were combinations that I had never tried before. Other than orange, I wouldn't have thought you could successfully pair fruit with chocolate.
However, Pierre Marcolini debunked that myth for me. He has managed to pair cocoa with fruit resulting in unique flavours and making this chocolate shop one of the most luxurious.
Signature creation: The Raspberry Heart, which is the Maison Emblem.
Flagship store: 21 Galerie de la Reine.
Every story has a beginning, and that of Neuhaus is perhaps one of the most unique. The origins of Neuhaus began as a pharmacy, where the founder covered medicine in chocolate to make them taste better. Years later, his grandson Jean Neuhaus replaced the medicine with a chocolate cream giving birth to the first praline!
The most beautiful Neuhaus store is found at the Grand Place, where most of the original architecture is still intact.
Signature creation: the Praline!
Address: Grand Place 27, Brussels.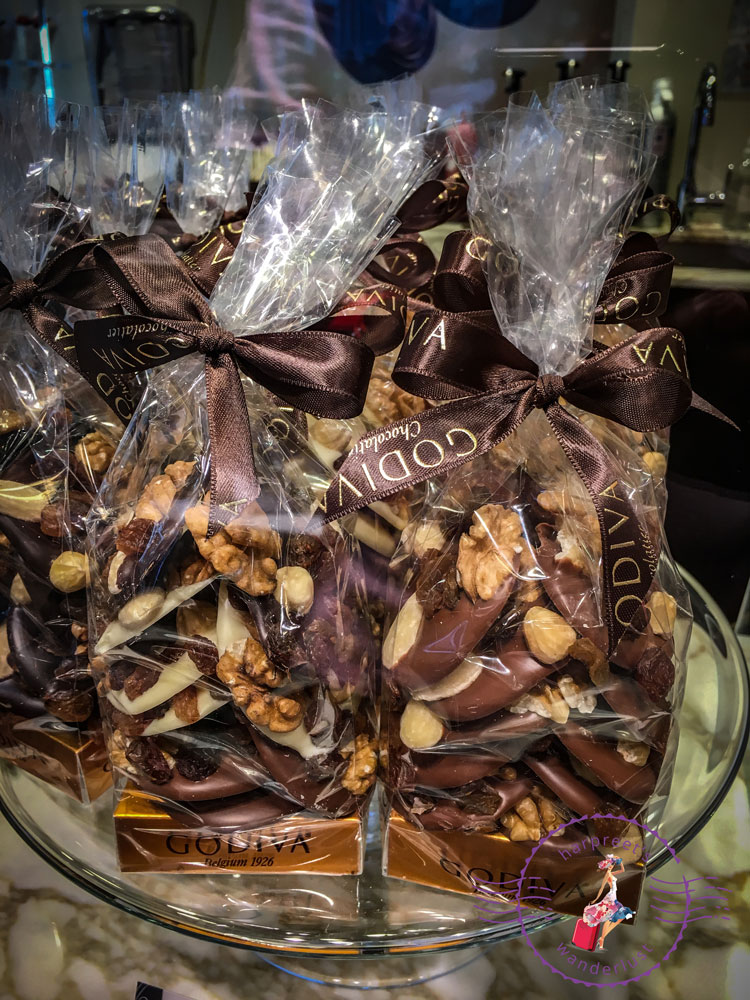 This brand is probably synonymous with Belgian Chocolate and is available from any supermarket pretty much anywhere in the world, so you may wonder why it made it onto my list.
First of all, I am a sucker for seeing the origins of brands that I know. And so, I had to check out the first Godiva store in the world, in the Grand Place.
Secondly, no disrespect to Godiva, but I wouldn't go into their stores to sample their chocolate. In the summer, they dip juicy strawberries into thick and luscious white, milk or dark chocolate. These are the raison d'etre for my pop-in to Godiva.
Sample: chocolate covered strawberries.
Oldest store: Grand Place 21/22, Brussels.
There is also a Godiva right opposite the Manneken-Pis statue: a great excuse to pop in for some more strawberries!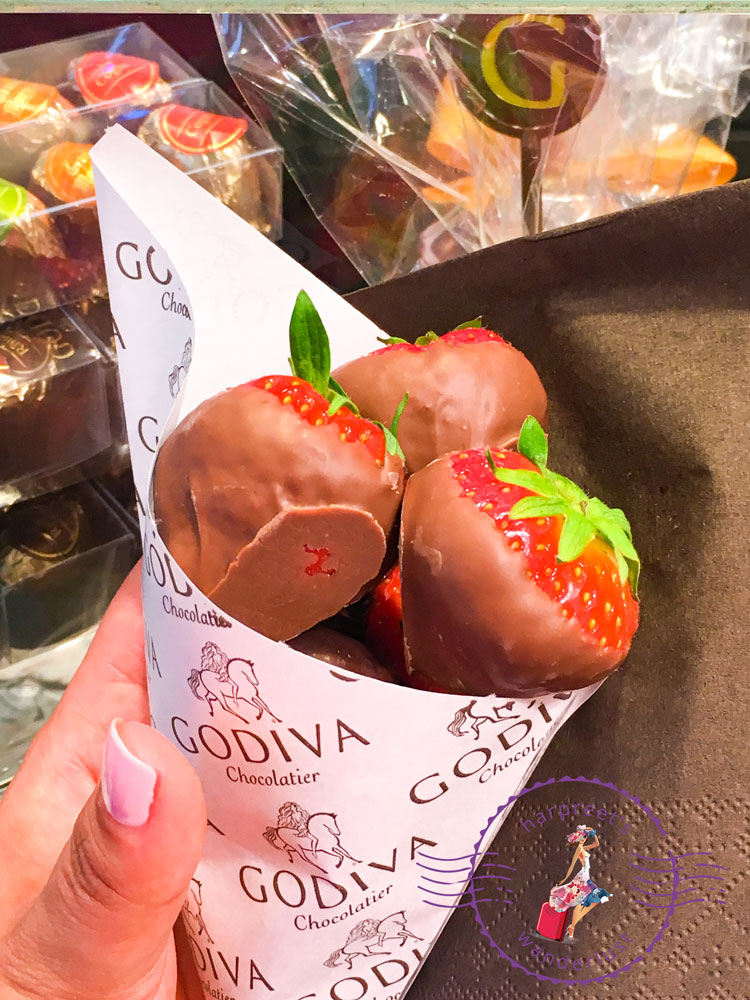 As the world slowly re-opens, and some of you lucky Wanderlusters get to explore Europe again, perhaps this tour would come in useful: but as always, double check that the shops are open as protocols may have changed over the last year or so.
Until next time, Happy Self-Guided Chocolate-Tour Wanderlusting! xoxo