I have always been fascinated about this country that managed to ban chewing gum and made jay walking an offence. I mean – I am no Violet Beauregarde but banning chewing gum? And coming from a country where a pedestrian is a hazard unto him/herself, well, making jay walking an offence is just too cool. In my world anyway. Singapore is way up on my list of 'cool'.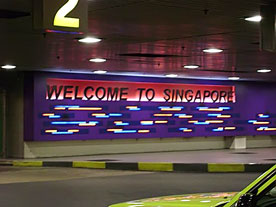 The whole country smells like roses. I am not kidding. The Holiday Inn Atrium on Orchard Street was the dwelling of choice, because of its proximity to the famous shopping street akin to London's Oxford Street or New York's Fifth Avenue. Well, not that it did us much good because everything is so darn expensive…but a girl can dream, cant she?
The Singapore Bus Network is so easy to use and is tourist friendly – we hopped onto a bus from outside our hotel and spent the first day in the city traipsing Orchard Street looking for some, ahem, affordable shops and not finding any we gave up and headed to the Raffles Hotel for a spot of tea and some more ogling at the shops in the hotel. Well, Louis Vuitton to be precise. To quell your curiosity, sadly I didn't buy anything but I did take mental pictures of the stuff I would have loved to have purchased right then and there…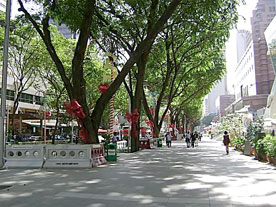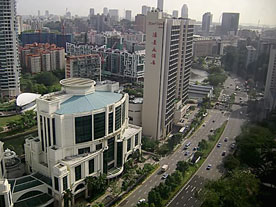 I was very excited to be able to meet my good friend Shakun from university for a good old catch up and some Starbucks hot chocolate. Pity we weren't able to spend more than a few hours but we had a good old natter nonetheless, reminiscing about our days at Warwick University and life since then. How I missed the vivacious and bubbly Shakun, it was lovely to have met up after eons!
That evening we went to Chinatown, and amidst wandering the streets checking out all the wares (no fake designer goods here by the way) we stopped and tried authentic Peking Duck – at the Da Dong Restaurant Fatty Weng which had the roasted duck hanging to by a hook. What an experience. The hostess carved the duck in front of us, and rolled up the pancakes with the spring onion and finely julienned cucumber, with the perfect amount of hoisin sauce to accompany it. The remainder of the duck is cooked to your taste. My mouth waters just thinking about it.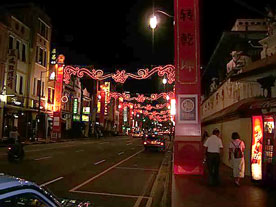 On our final day in Singapore, M dragged me to Sim Lim Square, electronic heaven, to traipse around four, yes four floors of electronics and gadgets looking for a darn phone. The highlight of getting to Sim Lim Square though, was traipsing through Little India scented with shops selling garlands of marigolds, and stopping off to enjoy some pani puri along the way.

Clarke Quay was the grand finale in Singapore. Cilla, whom we had met on our trip to Chiang Rai very kindly picked us up from the Holiday Inn and drove us around the city so that we could get a whistle stop tour of the city by night, stopping off for dinner at Clarke Quay with its colourful kaleidoscope of buildings along the Singapore River and its eclectic collection of restaurants – the most eclectic of which was the medical themed restaurant called Aurum, we didn't garner the courage to eat there but that didn't stop us from shamelessly oogling at some diners sitting at an 'operating' table, drinking cocktails from IV bags and cutting their steak with… scalpels, yes scalpels!! Pity we didn't get any pictures but just Google it. I assure you, the place exists!
Cilla did take us back to her Italian restaurant for a complimentary dessert and shot of limoncello, and she didn't let us pay for dinner at Clarke Quay either. We sent her some flowers and chocolate to say thank you on our return to Kenya however never heard back from her. Cilla – if you ever read this blog – thank you! If you are ever in Kenya, do look us up!
Our 2 days in Singapore came to an end all too soon, and we felt like we hadn't even scratched the surface. Hopefully one day we'll be back, to spend some more time in this clean, clean city!