Ahhh, La Belle Paris, the city of love. The mere mention of Paris conjures up images of the River Seine, winding its way through the city with its banks lined with little shops selling paintings and prints of Parisian culture and monuments, beautiful bridges spanning its width, the Eiffel Tower, the Louvre, shopping on the Champs Elysees, L'Arc de Triomphe, Pain au Chocolat, food, wine, fashion, romance…..have I transported you there yet?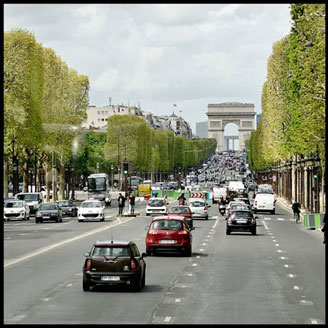 Paris is a mere 2 hour train ride on the Eurostar from London's St. Pancras Station (and you are ironically stamped "into Paris" after crossing a yellow line in London itself) taking you straight into Gare du Nord in the heart of the city. It is easy enough to get a metred taxi from right outside Gare du Nord to take you pretty much anywhere in Paris' various arrondisements.
Choosing the right arrondisement to stay in is not the easiest task, given that Paris is abundant with choices and things to do. We chose to stay in the 1'er arrondisement of Louvre and Les Halles, within walking distance of the Louvre and ahem, my new addiction thanks to M… Christian Louboutin's flagship store….need I say more?
Alas, not everything is perfect and the weather was miserable – it had started to rain the minute we stepped into the rue outside Gare du Nord and the gloomy weather did not let up all day! But Paris has an uncanny ability to weave its charm over the soul, and as a result, is romantic even in the rain, especially true as I catch my first glimpse of the Eiffel Tower peeking from behind some trees…excitement is stirring my soul. So, embracing the rain, my first purchase in belle Paris was not a pair of red bottomed soles, but an umbrella and to top off the look – a cute red beret for me…after all, true to embracing the tourist within me!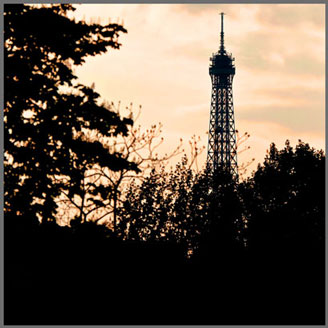 So much to do and so little time! M and I had a mere four nights in Paris, and so much on our ever packed itinerary. We have found, in our quests around the world that the best way to get to know a new place is to just wander, and let your footsteps steer you on your discovery to your next adventure. So, off we went to explore the rues of Louvre and Les Halles.
Our footsteps lead us to a bridge that caught our attention from afar – it has padlocks of all shapes and sizes spanning its width. The beautiful pedestrian bridge – Pont des Arts. The bridge is symbolic for lovers, who buy a padlock from one of the many kiosks along the river bank, write their message on the padlock, lock it to one of the links of the bridge and throw the key overboard. Your love is then meant to last forever. Whatever the case, we can't help but indulge…after all, this is the city of romance and what is more befitting that this?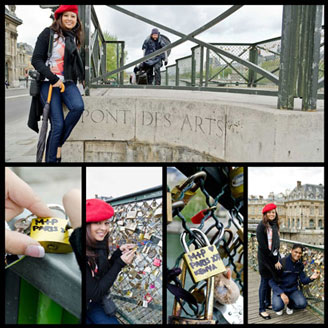 Paris = delicious gourmet food, vintage wines, decadent pastries…isn't it? And in my world, Paris meant I finally got to eat sumptuous Julia Child'esque meals consisting of Coq au Vin, Boeuf Bourgignon and Sole Meuniere, (the movie Julie and Julia to blame for this) but our jaunts into various restaurants and a peek at their menus revealed that Parisian restaurants (at least the ones in Les Halles) do not serve these hearty meals but instead, pretty staple meals of steak frites, French onion soup, l'omellettes and lasagne…yes, you read right…lasagne! Not one to give up, the quest for my French gourmet food was on.
Julia Child fantasies aside – my first meal in Paris was not Coq au Vin but instead a piping hot, hearty, extra cheesy French Onion Soup, which was eaten in a cosy bistro while the rain unrelentlessly poured outside. Clearly, this was a day for Soul food. Gourmet food could wait for another day.
Google had advised that the Louvre is best explored in the mornings as the lines are not so long. Being a five minute walk away from our hotel in Les Halles we decided to risk walking under the grey sky along Rue de Rivoli to the Louvre. We amble past many, many boulangeries with their delicious smells of freshly baked croissants wafting out and warming the air around us, and with their enticing displays of patisserie in the windows, gorgeous displays of tarts decorated with swirls of cream, luscious red strawberries and green kiwis, gateaux with thick curls of white and dark chocolate….we are truly mesmerised and decide to pop into one of these bakeries and grab some pain au chocolat to nibble en route. We munch away at the Chocolatey, buttery heaven, and ogle at the many creperies that also line Rue de Rivoli, inching our way towards the Da Vinci Code'esqe Glass Pyramid symbolic of the Louvre, which I was most surprised to learn was the entrance into the famed museum, to wait in a thankfully not so long line.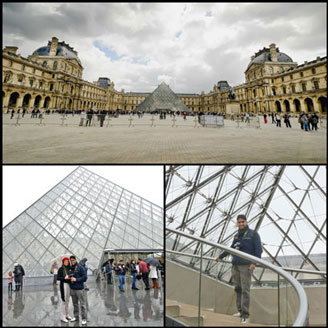 We were not altogether lucky enough to escape the rain and it drizzled the entire time we crawled up the line to the entrance. The security checks are the raison for the delay in getting into the museum but once in, you head down escalators so you are in effect inside and underneath the pyramid, getting to various counters to buy tickets to let you in to explore.
You will be glad to know that there are several counters, and the lines move very fast. And I am excited to see that the Sully Wing and the Denon Wing really do exist in the museum and not just in the Da VinciCode.
Wandering around the Louvre, I cannot help but think to myself that I wish I knew something about the Arts. I am almost embarrassed to admit that to me, The Louvre is the home of the Mona Lisa and the Venus de Milo. Monet painted the Water lilies. Renoir came up with the Thinker. And that about sums up my knowledge of Art.
Anyhow, thanks to my trusty Lonely Planet guide book, I learn (and educate M too) that the Louvre was the former Palais du Louvre, originally constructed as a fortress and later used as a royal residence, and the foundation of the fortress is still holding up the building and can be seen in the basement.
Art adorns every edifice of this building, from the ceilings, to endless halls and halls and halls…. You do have some serious artsy people sitting on the strategically placed benches absorbing in the works of various artists, but the majority of people are tourists, rushing to find Salle de la Joconde, or the room housing the Mona Lisa, as she is better known (FYI – she resides in Room 7, 1st Floor, in the Denon Wing).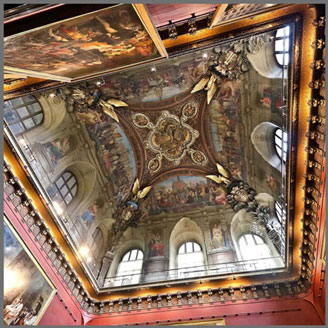 M and I are no better, joining the throngs of tourists flocking towards the Mona Lisa, also making our way to see this painting – after all, she is our raison d'etre in the Louvre. Though I must admit that some of the artwork has us quite mesmerised en route to the room. We miss the room the first time round and have to consult the map to backtrack and find her, and finally, there she is. The fabulous Mona Lisa. In my mind – humungous, but in reality -a painting that is smaller than one imagines, ensconced in a glass case, thronged with tourists vying for the perfect shot. Not what Leonardo da Vinci had in mind when painting this, I am sure. Thank goodness for my 70-300 zoom lens that allows us to capture her beauty and her haunting smile…or isn't it a smile…you just cant tell. Rumour has it that the painting in the room is a replica and the original is hidden in the annals of the Louvre but a part of me would like to believe that this is the one and only.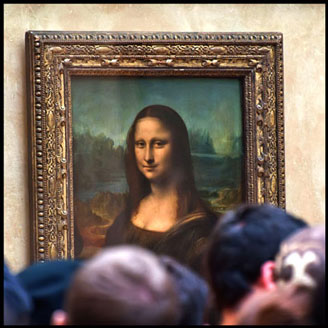 Next stop – the Venus de Milo. Again – thronged with tourists, I wonder why this statue draws so much attention? My understanding from my spurt of googling later is that the statue is meant to embody the epitome of female grace and beauty, and that it was made famous by propaganda. Whatever the reason, it is indeed quite a sight.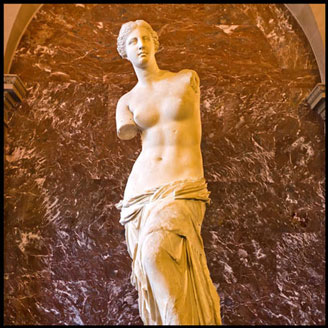 Cultured out for the time being, we decide to go explore the rues of Paris some more. This beautiful city is so easy to navigate, and thanks to the L'Open Tour hop on-hop off bus company, you can visit all of its quartiers with ease. There are various coloured lines, and buses stop at designated pointsevery few minutes –meaning that you are never far away from a stop. Tickets can be bought on board, using cash or a credit card, and you get a map and a pair of earphones which you plug in for a running commentary of the sights at your convenience, in a variety of languages. I would highly recommend this – simply choose a quartier, hop off, walk around, explore and discover.
One of my favourite quartiers is the Latin Quarter, on the left bank. You know you're in the right quartier when you see the famous fountain of St. Michael slaying a dragon, which also doubles up as an arena for budding artists to showcase their talents.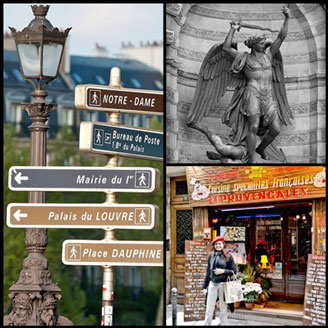 It is here that we discovered, in its cobbled rues, a slice of Parisian culture, eating escargots (snails) and cruisses de grenouilles (frogs legs) and finally, my Julia Child meals of Boeuf Bourguignon and Coq au Vin. A good friend later told us that the Latin Quarter is a mainly student area, which now explains the quality of the fare and the reasonable prices, but even knowing this I would still go back for the vibrant atmosphere, and studenty or not, this quartier did enable us to get away from the steak-frites being peddled in every other restaurant in Paris.
The Latin Quarter is packed with cafes and places to eat at, and you can get any kind of food here, from fancy shmancy French fare to pretty much food from all over the world, at reasonable prices and with many lunch time offers of wine and a meal. It is incredibly pocket friendly too, a welcome break for your wallet in an otherwise expensive city. Its cobbled rues have a myriad of shops to explore, from fromageries to chocolatiers! Indeed Rue Mouffetard, which is meant to be the grocery street and rumoured to have all sorts of exciting foods in the quarter is a place to visit but sadly, our meandering in the rues did not lead us to this street.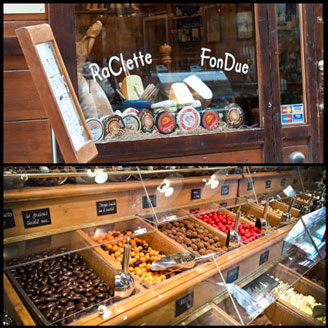 Thankfully we had one good day with no rain and taking advantage of this, we decided to cram in the Notre Dame, get some good pictures of this beautiful cathedral with its gargoyles looking over the edges and guarding Paris, and then head down the Champs Elysees, walk along the picturesque tree lined boulevard all the way to the Arc de Triomphe and do some window shopping.
I am really excited to see the Louis Vuitton store – it consists of what looks like five floors, could be more, all monogrammed in that delicious LV insignia, but sadly I was not brave enough to venture into it, fearing I'd max out my husband's credit card with all the merchandise that I want! My shopaholic tendencies mean I have very little self control. There. Confession made! We did however, do some justice to our jaunt along the Champs and buy loads of goodies from the Mont Blanc store, and enjoy the beautiful panoramic view of L'Arc de Triomphe from this strategic spot.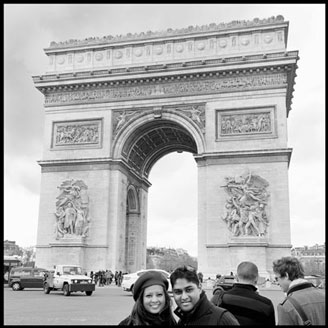 Hopping back onto L'Open Tour at L'Arc de Triomphe, we snaked our way towards the icon of Paris itself – the Eiffel Tower. As cheesy as it may sound, just catching a glimpse of this icon from Trocadero (which by the way, is a great place for photographs) builds up excitement! We had tried to buy tickets online, but these have to be for a specific date and time, and given that the weather had been so gloomy we had held out waiting for a slightly clearer day, and so we knew we had to do this the queue way.
Getting to the tower, we find out that there is only one elevator working and the queue for this elevator snakes round the tower and onto the street and is so long that it almost puts us off standing in it, but its now or never. So we join the queue and wait for what seems like an eternity. On the plus side, this means that we need to slow down, and take our time to soak in the atmosphere, marvel at the architecture of the tower, wonder just how this has been put together and enjoy the beautiful greenery around the area.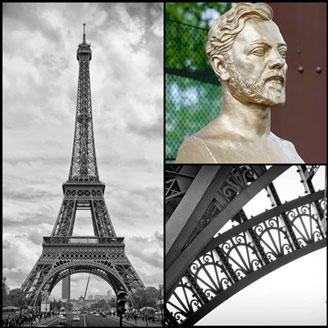 The sunshine, almost being too good to be true suddenly disappeared and of course, the rain started, drizzling at first, slowly turning into a fully fledged hail storm! This almost resulted in us turning away but at this point we had waited so long and were so close to the ticket booth that it would have been a shame to give up, so soaked to the bone as we were, we braved it and went on to wait. A total of 2 hours and 45 minutes later, we were boarding the yellow elevator, taking us up to the first and then the second floor of the tower. The elevator is slanted against the structure, in a very interesting manner. It takes seconds to get to the floor and out we get, to marvel at the panoramic view. Miraculously, the rain has stopped and the sun is out again, so we are able to get some pretty decent shots of Paris from this level. We are able to see L'Arc de Triomphe, the pyramid of the Louvre, the Sacre Couer, the beautiful tree and flower lined streets of Paris, the river Seine snaking its way through the city, flanked with beautiful bridges….words cannot do justice to just how spectacular the view is!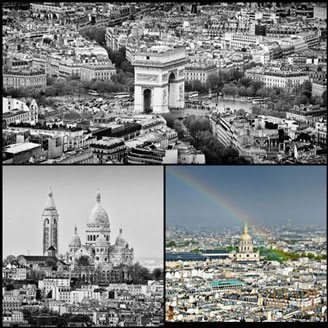 We bought a ticket right up to the top, which cost €14 per person. (Tickets to the 1st and 2nd floor cost €7 per person) Trust me – it was worth every single centime to get up the neck of the tower and into the glass ensconced room, see Gustave Eiffel's office, and an even more spectacular view of Paris than that afforded on the second floor. It was pretty windy and the tower swayed gently in the wind, but this is so slight that it feels nothing like a tremor and is not scary at all! The glass room is nice and warm and is a good break from the windy exterior, a place where one can stare out into the vast expanse of Paris, fixate on a monument and just – dream.
The tower is even more spectacular at night, all lit up, twinkling away. A romantic walk is in order, taking in the beautiful view and stopping to eat a warm, nutella filled crepe, cramming in dessert before a steak-frites dinner at Café Gustave. Perfect.
On our final night in Paris, we decide to head to Montmartre to catch the Moulin Rouge cabaret. Sadly you are not allowed to take photographs once inside but the outside is brightly lit up and perfect for taking pictures of. The inside is in need of refurbishment and it is well worth going for the offer with a bottle of champagne as this guarantees you a table with a front view of the show, as opposed to being tucked away in a dark corner. The show itself is no Cirque du Soleil but the atmosphere is electric and the feeries or fat little ponies of the Moulin Rouge are fun to watch.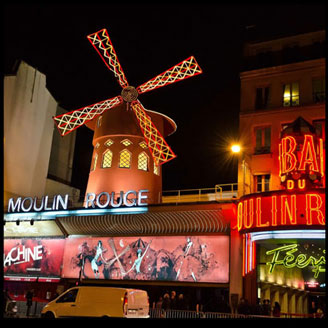 I cannot resist one last bit of shopping. My shoe addiction means I have to pay a visit to the much coveted shop of Christian Louboutin, on Rue St. Honore. M, in his signature way of spoiling me rotten every chance he gets has decided that we cannot leave Paris without purchasing a pair of red soles for me! I am doing my dance of joy and I am so excited to walk into this beautiful shop, slip my feet into the most beautiful pair of black patent heels, and walk out with my Pigalle Loubeauties nestled in their perfect red pouch in their box, housed in a bag that screams to the world that the devil doesn't wear Prada – she wears Louboutin. Happy sigh.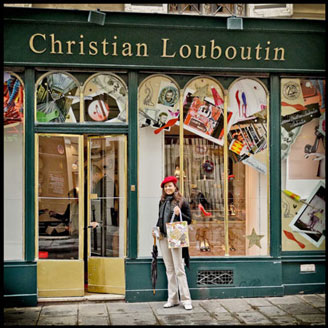 Our friends in London had asked us why we chose to go to Paris, many citing the French to be less than friendly and Paris to be a dirty city…but after an incredible four days here, all I can ask is, which part of Paris did you guys end up in? We found the French to be incredibly friendly, helpful and polite…and perhaps Paris has cleaned up in the recent years? Give it another visit and you too, will like me, fall in love.