I remember the day that M and I took our first footsteps into exploring the world like it were yesterday, even though this was almost 5 years ago, in December 2007. This was the beginning of a lifetime of adventures for us, crossing off our first destination on that ever growing bucket list.
We set off for the airport in Nairobi, full of beans despite it being 4 am in the morning, looking forward to the adventure that waited for us in South Africa. All checked in, we toasted the sunrise and the start of this first footprint with a cup of coffee from Java at Gate 12, in Nairobi's Jomo Kenyatta International Airport before departing to Durban, via Johannesburg.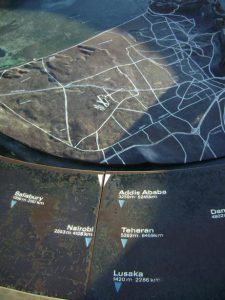 >We landed in Durban International Airport at lunch time, in the sweltering heat and made our way to the modest City Lodge Durban Central located 2 blocks away from the beach. Being on a tight budget, this was as good as it was going to get for a while but we loved every minute of it and now look back with some fond memories on that maiden footstep on our quest for adventure.
Being ever ready to explore, we wasted not a second in the lodgings but took off to the beach. We walked across the two blocks separating us from the sable sand and the Indian Ocean, and set foot on South African sand for the first time!
The beach was a public beach, very different from what we are used to back home in Kenya, but an experience nonetheless. There were loads of snack shacks and places to lounge on the beach, where one could just immerse oneself in the moment and watch the world go by….which is exactly what we did. We grabbed a seat at one of the snack shacks, ordered up some cocktails and bites (a chicken sandwich like no other I have eaten and some freshly fried calamari), and soaked in the buzz of activity around us – sunbathers, surfers riding the high crested waves, families having a nice day out and enjoyed the rest of the afternoon in a soon drunken stupor.
The next few days were spent exploring Durban. A good friend had recommended we hire a car, which we did for a reasonable price but reasonable does not mean good and so what was in our budget was a non air conditioned, manual ford fiesta….it was an uphill task to drive our hired jalopy in the sweltering heat but hey, they were wheels, which is what we needed at the time!
We took wrong turns, got lost several times and found our way around again several times…and decided that I was useless at map reading.
Anyhow, despite my map reading we still ended up at our first stop – the Musgrave Mall after which we drove out to Gateway Shopping Mall in Umhlanga.
That evening we had dinner at Spiga D'oro, an Italian restaurant on the popular Florida Road.  Food in this glorious country is so affordable and so delicious!! 5 years later, I remember their cannelloni special of the evening as being one of the nicest cannelloni's I have ever eaten, the service being stellar especially when our waiter found out we were from Kenya and had come to Spiga on the recommendation of a friend. I would love to go back just for that cannelloni!
A few more days of walking around and exploring the area and more shopping followed – Durban is fantastic for its outlet shops, and  we picked up a tonne of stuff at bargain prices and this included a whopping 12 pairs of shoes for me and I didn't even break the bank!
Our final day in Durban took us to uShaka, Marine World, where we spent an exciting day exploring the underwater ship wreck aquarium, ogling the sharks and giant turtles from behind the safety of plexiglass, enjoying the penguins, and watching dolphins and seals perform a fantastic show, avoiding the dangerous creatures exhibit (I am petrified of snakes!!!).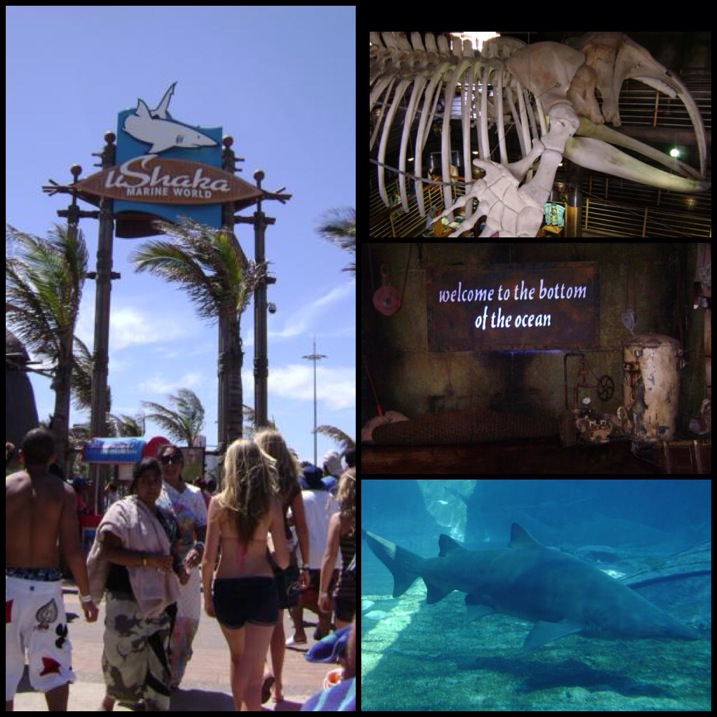 All this adventure was topped off with a fabulous lunch being a platter full of seafood (prawns, calamari and fish) at The Cape Town Fish Market, washed down with some chilled South African white wine.
The evening was spent at the large Suncoast Casino, which can be a bit much if you don't gamble, but it does have the atmosphere of a mini Vegas with the constant pinging of slot machines. It has several good restaurants where one can while the evening away enjoying a good meal, in any event, it was a fun last night in Durban.