The only cure for a hangover is hair of the dog, and a fry up. Thankfully we had a selection of restaurants on Jalan Laksmana all serving up post New Year party fare, so filling up on grease and a mimosa was the order of the day before meeting up with Sachin and Deepa to head to Ulu Watu.
Ulu Watu is one of the revered temples along the south coast of Bali, famed for its sunsets. The temple is perched along a cliff, with the Indian Ocean surf breaking against the cliff face. The rain had decided to once again, grace us with its presence and cloudy skies, dashing all hopes of a legendary sunset.
One thing at Ulu Watu – watch out for those pesky monkeys!!! They are NOT cute, and in fact are quite a menace. The ushers at the entrance tell you to remove all caps and earrings, yes earrings – you are probably wondering what a monkey has to do with earrings, but trust me and just remove them.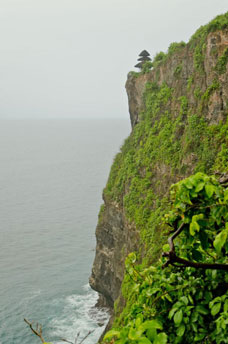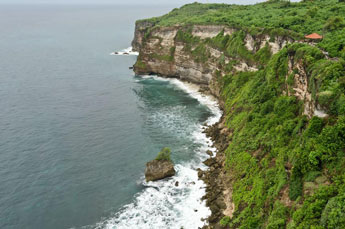 While climbing up the stairs towards the temple, two monkeys fornicating vigorously catch my attention, and as I lift my foot up to get onto the steps a pesky monkey breezes past from nowhere and swipes my slipper off my foot and runs off with it, chewing away! Drat! Two seconds later, a man with a stick comes up to me and asks "do you want your slipper back?"….errrm, talk about the obvious answer, yes I do!!!
So I have to fork out some money for a packet of food which is then thrown to the monkey, who abandons my slipper and reaches out for the food. I am convinced that these creatures are trained to be a menace!
They end up stealing caps, and bags and anything they can get their hands on and totally ruin what would have been an otherwise serene experience at Ulu Watu, with its stunning panoramic view of the southern coast of Bali. Hmph.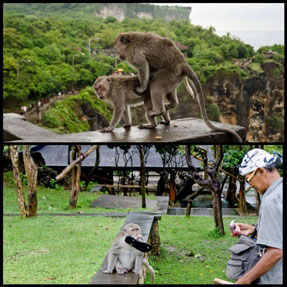 Another reason to be at Ulu Watu is the Balinese Kecak fire dance. What better setting than this temple of the spirits? The rain decides to rear its head again, and we sit in the open air auditorium getting soaked but are enthralled by the "ke-cha-ke-cha-ke-cha" being chanted by the dancers.
The kecak dance is a depiction of Mahabarata, with the whole Sita being captured by Ram and rescued by Hanuman brilliantly played. The character playing Hanuman is incredibly spirited and bounces in and out of the audience, exhibiting similar behavioural patterns as the real monkeys in Ulu Watu – but making people laugh.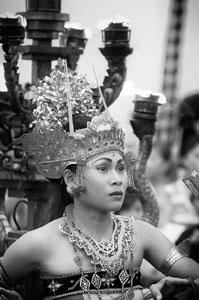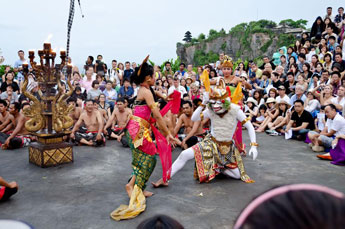 Jimbaran Bay is famed for its seafood on the beach. Soaked to the bone from the rain in Ulu Watu, we are undeterred – nothing keeps us away from good food! Dining on the beach with your toes in the sand, under a twinkling sky with the waves of the Indian Ocean lapping gently against the shore – what more could you ask for?
There are a myriad of restaurants, or warungs as they are known as in Bali to choose from on the Jimbaran stretch – and they all have the same concept. You choose your seafood of choice (fish, lobster, prawns, mussels, crab, clams etc etc) from fresh water tanks, by the kilo. Your choice is then cooked up to your preference with a variety of sauces and served up with some rice or veggies.
After our seafood dinner, we decided to go to Rock Bar at the Ayana Resort but it was closed, I guess being New Years Day. Supposedly perched on a rock in the middle of the sea, you get to this by a tram made especially for this purpose. It was disappointing to have missed it, but all was not lost because we ended up having sheesha and a couple of drinks at the bar in the hotel.
Now, I don't know whether it was the seafood or the rice or the veggies I ate with dinner, but I had god awful food poisoning and spent the night puking my guts out.
Doesn't say much about Jimbaran Bay and its food but Sachin, who also ate the seafood with me was absolutely fine, as were M and Deepa (they didn't eat seafood though). But I was the only one that ate the rice. Suspect perhaps?
Everything happens for a reason, and the food poisoning and my delicate tummy meant that we had a 'leisure day' spent by the main pool at The Oberoi, much needed, and the weather co-operated too, being delightfully clear and sunny for a change!
The Oberoi is the epitome of luxury. The sun beds are made up with the comfiest of towels, with head pillows! A wooden tray decked out with ice cold water, ice cold towels, and spritzer (sadly not Evian like Al Qasr) but so decadent nonetheless, is placed next to you as soon as you've made yourself comfortable. Waiters walk around with fresh fruit kebabs, sorbets, ice-cream….all the good stuff!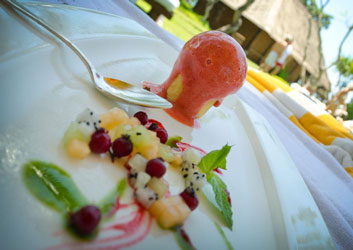 A day of R&R was just what I needed, and by evening I was back to my old self, ready to explore again.
The rain had graced us with its presence, yet again but, we didn't use this as an excuse to stay in and get room service, instead we walked down Jalan Laksmana and found a cosy Italian restaurant, Trattoria and went in for a really yummy margarita pizza.
The service was terrible, with the waiters forgetting about the twosomes and focusing on the larger groups but the pizza was yummy and made up for the lack of attention, and I was feeling good again, so life was getting back to being great!