If I could describe Ubud in one word, it would be utopia. Lush tree lined avenues with beautiful art everywhere, gorgeous temples, quirky statues, moss covered walls, friendly people – Ubud is the kind of place where the wandering soul finds peace and can rest. Ubud is magical and makes you fall in love with Bali, in a way that no other country quite can. It is almost surreal.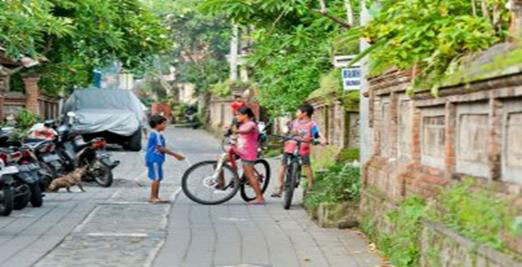 Elizabeth Gilbert claimed to fall in love when she wrote her novel "Eat,Pray,Love"… and I can identify with that feeling though I must clarify that her novel was not what prompted us to visit Ubud to begin with. I am even more excited to find out that the people mentioned in her novel, like Ketut Liyer the medicine man really do exist but the people of Ubud are Eat, prayed and loved out so I don't pursue the whole touristy I want to see Ketut Liyer et al thing.
Kajane Yangloni has a free airconditioned car that takes you into the centre of Ubud, so we take advantage of this and head into the main town, which is all situated in a square along Monkey Forest Road, Jalan Hanomana and Jalan Raya Ubud and is easy enough to navigate, with plenty of cafes, restaurants and amazing boutiques – the best way to explore is on foot – we find so many hidden treasures – a naughty looking statue peeking out from over a moss covered wall, a painting tucked away in a shop…Ubud is a feast for the eyes.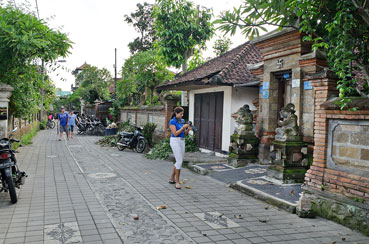 The "thing" to do in Ubud is to catch a traditional dance, with the one at Ubud Palace being the most popular. Tickets are easy enough to get – being peddled on the street or directly at the palace, however we decide to take a stroll to see what else is on offer.
We stumble across what seems like a restaurant with a beautiful garden, on Jalan Raya Ubud and wander in – there is a stage being set up for the dance that evening and as we are mesmerised by the surroundings we buy tickets from the gate straight away. We find out later that this is the Ubud Water Palace, and we are lucky enough to have caught the once a week performance of the Barong dance. There are beautiful carvings of the Goddess Saraswati, Hindu Goddess of the Arts at this palace and she has clearly blessed Ubud abundantly – this place is an art gallery.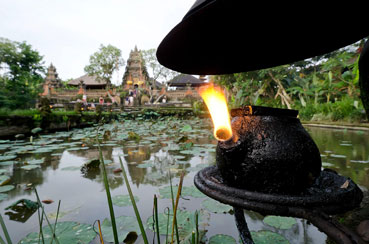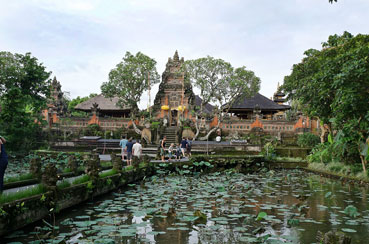 We are not disappointed with our first row seats or the performance, and even more thankful for the impromptu purchase of bug spray that we bought earlier, as the mossies are unforgiving! The "tun, tun, tun, tun" of the Balinese xylophone still echoes in my ears, and the elegant manner in which the dancers tell various stories of Hindu folklore, ending with the story of good versus evil, with the Barong, a sacred creature with a large doggy -lion like head and huge eyes and clacking mouth have us mesmerised for well over an hour.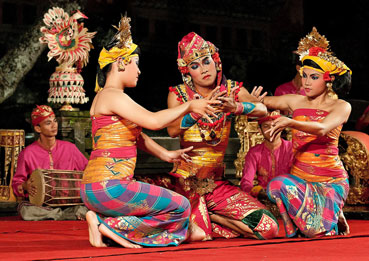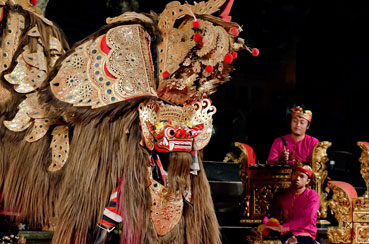 Culturally enthralled and sated, we head back to Monkey Forest road to get some dinner – it is not very late, probably a little past 8.30 pm but most of Monkey Forest Road is closed, save for a few restaurants and so we step into Ibu Rai, which is relatively full, where I indulge, yet again in Mie Goreng – classic Indonesian noodle with prawns and chicken. Deelish.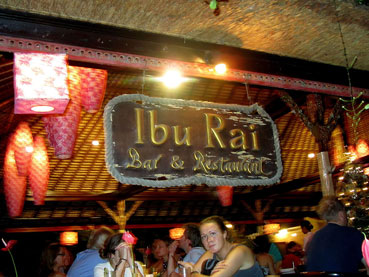 Waking up to a beautiful breakfast on our own terrace in the rice paddies, I notice that there is an offering on the doorstep, and I see a lady going round placing offerings in front of every doorway. How nice. Something about this makes me wish I could calm my monkey brain and meditate, but since I can't, I am happy to breathe in the clean air and soak up the beautiful sight in front of me. The men have a small flower tucked behind their ear, a blessing of sorts to ensure their day goes well. Bali is so spiritual, it really is like balm for the soul.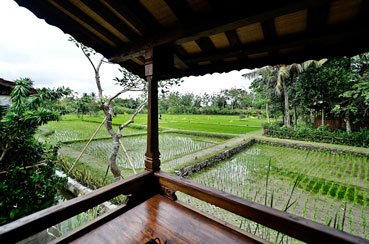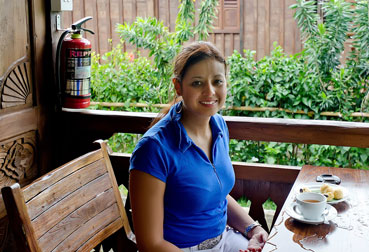 Today, we head to do some sightseeing around Ubud, having arranged this with Kajane Yangloni. Driving through the garden routes in Ubud, we head first to Goa Gajah or the elephant cave. It is hot, humid and sticky and we are told this means rain. I hope not! There are no elephants in Bali but the cave gets its name from its elephant like features. You enter the cave through what looks like the mouth of a demon. Inside the cave are the remains of the lingam and yoni, symbols of the Lord Shiva, as well as a statue of Ganesh, the elephant headed God, Lord Shiva's son.
Outside the cave are two bathing pools with female carvings, from which apparently holy water flows.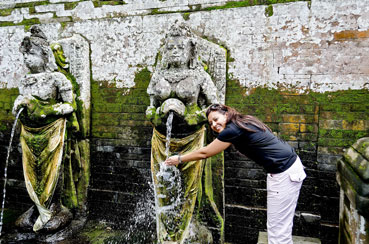 You can take a lovely walk down through the rice paddies to the River Petanu and get splashed by the cool water, but the steps are steep and can get tiring, despite not being very many.
The temple that has me fascinated is Pura Tirta Empul, in the small village of Tampaksiring. The attraction here is the holy springs, which flow in from the Pakerisan River into a bathing pool in the main temple, and then gush out through water spouts into several bathing pools. The water is said to have magic healing powers, which is clear from the number of locals giving offerings and bathing underneath these spurts. Legend has it that anything from illness to your life's karma can be resolved by a dip in these pools.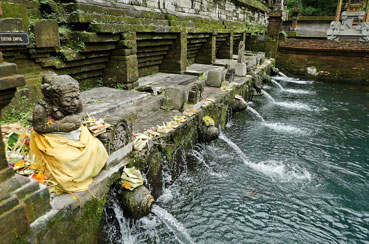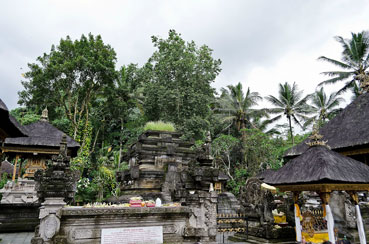 The Balinese certainly do know their weather patterns – no sooner do we get into our car than the skies open up – we are headed towards the village of Kintamani to see the Gunung Batur crater from a viewpoint, but sadly by the time we get there the area is shrouded in mist and other than stopping for some lunch, we don't get very lucky. The rain stops and the mist lifts somewhat, but not enough to get the view we came for.
It is rice growing season and en route back into Ubud we stop by the famed rice terraces, drizzled with a bright green that looks like Astroturf. It is still early days and so the soil of the terrace is visible, but this is great as it gives us a good idea of what these terraces will look like in a few weeks, clad in green.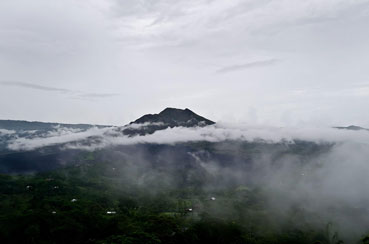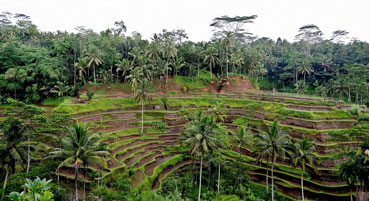 Once back at Kajane Yangloni, I enjoy a traditional Balinese cup of tea, while trying once again to calm my monkey brain, soaking in the view of the rice paddy field, without much success!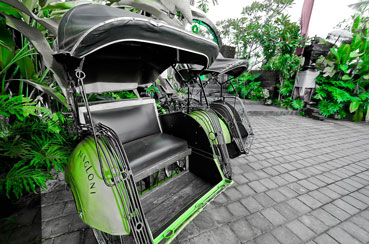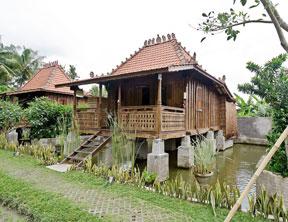 Our final night in Ubud takes us to Cinta, a bar and grill right opposite Kajane Yangloni's sister property Kajane Mua. The ambience here is electric – a wonderful view of the busy street in front of us, perfect for people watching. It is on Monkey Forest Road, the same road as the night before but this side seems to be a little more alive!

Babi Guling, or suckling pig is the most revered dish in Bali and is served as the piece de resistance in rituals. Ubud is one of the best places to eat this dish, and sadly we cant find the warung that is recommended by the lonely planet but Cinta has this on their menu. M claims it was the best suckling pig he has eaten. I indulged in delicious prawns slathered in a sauce that is a cross between champagne and pepper. Indeed, a befitting feast had to bid adieu to our beloved Ubud.