I cant quite bring myself to terms with the fact that I have to leave this art gallery, Ubud and so M and I go into the town for one last jaunt before we head to Seminyak. On our jaunts the last few nights we have found some pieces of art that we really want, and this morning, we head towards the several galleries (which are actually people's homes) off Jalan Hanoman to purchase our coveted pieces.
The Balinese believe that the first sale of the day is auspicious, and so you can bargain to the nines, and get art at UNBELIEVABLE prices. We finally manage to get the Buddha painting M had spotted 2 nights ago, and I am torn between a painting of green with colourful birds, and koi carp which are said to be lucky. Each painting is more colourful than the last and it is so hard to decide. These guys are so talented, it is hard to fathom – I do not have an artistic bone in my body, so hats off to anyone that can paint or dance. I finally settle on the koi carp, a painting that is now perched in my office and is a great conversation starter as anyone who sees it instantly falls in love with it – just the cue I need to start rambling off about my footsteps in Ubud!
Interestingly, the gallery where we bought our paintings is also a homestead with a Temple in it. We learn here that it is very common for homesteads to have their own Temple, and for many generations to live in one homestead. The sons in Bali marry and don't move out, they look after their parents and ensure continuity of the Temple and family's traditions. The cultural and spiritual beliefs on this island are so deep rooted – it is refreshing to see in this day and age of gizmos and gadgets.
Armed with our purchases, we head towards the market, where again, everyone is vying for the first sale of the day. There are some beautiful dishes here and if only I could transport them – we buy green mosaic tiled serving dishes at a bargain price – simply because the vendor was so likeable that we couldn't leave them behind.
Sadly, all good things must come to an end but we still have the next five nights to spend at the beach in Seminyak to look forward to. The weather is crap, and we are welcomed into Seminyak with rain. We have checked in to The Oberoi and M has surprised me with our own private villa with a pool, and despite the gloomy weather I cannot help but indulge….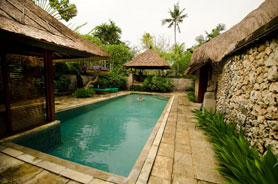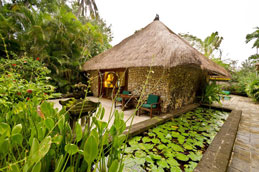 It is New Year's Eve, and we are meeting our friends Sachin and Deepa in Seminyak. Typically, we've left it too late to get tickets to any decent club and the concierge at The Oberoi is quoting some ridiculous figures to get us in to Ku De Ta next door. Being the free spirits that we are, we decide to go with the flow and pub/bar hop along extensive Jalan Laksmana and see where the night takes us.
We start off the evening at the Red Carpet Champagne Bar which has a Moet et Chandon promo, then head towards a bar/restaurant called Rumours, which seems to be incredibly lively. Now, Sachin is mad – as in fun loving. He chooses a flaming cocktail called something or other waterfall, which is a mix of sambuca, tequila and whisky all lit up and trickled down a bottle of Galliano, meant to be gulped down while on fire!
You can imagine that after this concoction, I was set for the night! I needed grease to sop up some of the alcohol and Rumours' burgers did not disappoint. A few shots later, we were ready to move on to the next bar – but not before Deepa and I stole, yes stole and ran off with the waitresses glowing horns! Oops!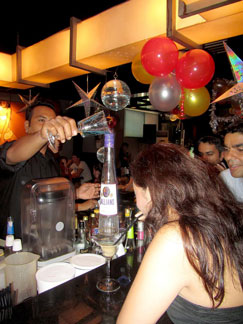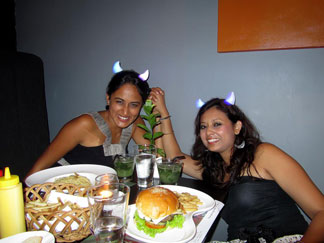 The idea was to have a shot at every bar on Jalan Laksmana and head towards Ku De Ta, and try and get in for the countdown. We were told that we were too noisy at a bar that I cannot remember the name of (despite it being just the four of us), so we headed back out onto Jalan Laksmana en route to Ku De Ta.
Sachin managed to convince a group of 20 young tourists that we were going to a massive beach party, and they followed us, poor people! We lost them as soon as we got to the entrance of Ku De Ta, which turned out to have inflated their prices even more! If M and I had hopped into our villa we'd have all heard the countdown free, so we decided to cut through The Oberoi and head to the beach, just in time to hear whistles and see fireworks being shot off the beach from locals, signifying the dawn of 2012.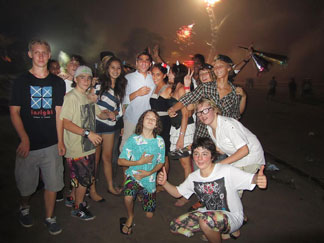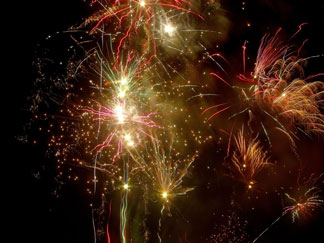 The atmosphere was by far the BEST New Year's atmosphere we have ever seen – families on the beach, the skies lit up with colourful bangs and bursts of colour. It was electric.
Passing by a beach bar/club called Chez Gado Gado, a friendly bouncer was so taken with our vivacious characters that he called us off the beach and onto the terrace and gave us masks and noise makers), and we danced the night away, with more Moet to celebrate 2012. Deepa and I danced with sweaty transvestites…ew now but fun that night? M and Sachin ended up clambering onto the tree at Chez Gado Gado…..it really was a memorable way to usher in 2012. The awesome company coupled with a stunning atmosphere was what made the night so much more memorable. We haven't had new year's like that again…yet…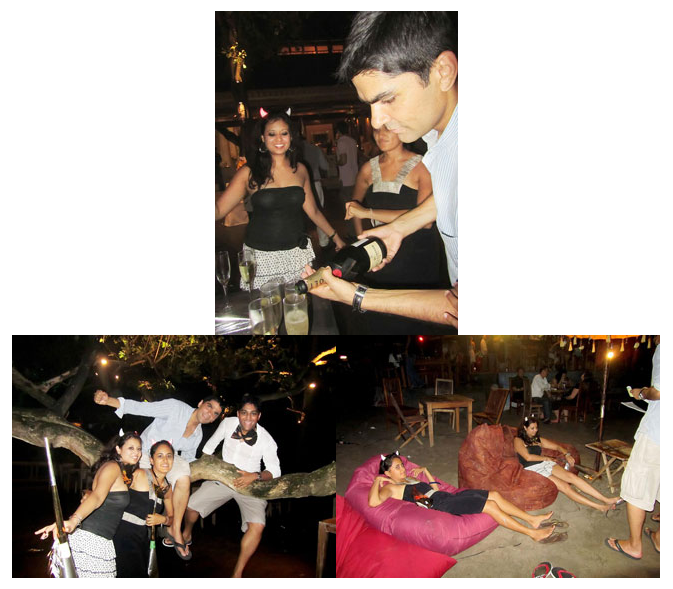 The party at Chez Gado Gado wound down at about 4 am but we decided we hadn't had enough, so headed further down the beach where we found this awesome sheesha bar, set up on the beach with bean bags! We plopped down on these bean bags, no more alcohol needed, and thought we would catch sunrise on the beach. I guess age took over because we started getting very comfortable and sleepy on the beanbags, so calling it a night, M and I ambled back down the beach to The Oberoi, and went straight into our own pool in our villa
Bliss. Welcome 2012, if this is a sign of things to come, bring it on!!!